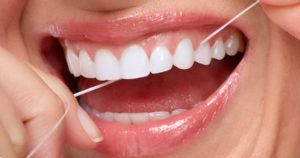 It's finally 2023, which means you might be reevaluating some of your habits and lifestyle choices and brainstorming new resolutions to make the upcoming year a great one! One thing you may be hoping to improve upon this year is your oral hygiene routine—but have you considered your flossing habits? Here's more from your dentist about why flossing daily is a necessary practice, along with some tips for ensuring that you're able to keep up with it this new year.
The Importance of Flossing Daily
Concerning oral hygiene, brushing their teeth is the first thing that comes to mind for most people. But brushing twice a day simply isn't enough to fully protect your smile from the likes of serious oral health issues. When foods that are high in sugars and starches get stuck between our teeth, the bacterium in our mouths turns these particles into acids that contribute to the buildup of plaque.
But this is where flossing comes in handy; the habit is essential because it helps to break up the plaque that forms between your teeth in places that your toothbrush cannot access. If this plaque isn't eliminated, it eventually hardens into tartar and becomes quite difficult to remove; it also greatly increases your risk of diseases and infections.
It's also worth noting that even if you have dental restorations, such as dental implants which replace your teeth from roots-to-crown, flossing is still necessary, as the gums around your implants are still susceptible to all sorts of problems. In short, flossing daily protects your whole smile from some pretty serious issues!
Tips for Flossing Throughout the New Year
Here are some tips to help you floss properly and often enough throughout the new year:
Find a type of floss that you like using and keep plenty of it stocked at home. There are several types of floss that come in a variety of materials and flavors, so finding one that suits your smile shouldn't be an impossible task. You might also consider using dental floss sticks or a water flosser.
Keep floss in different locations: the bathroom, the kitchen, your desk, your car, and even your purse. This will inevitably make it easier to floss regularly.
Set reminders for yourself so that you stay on top of your habit; a sticky note on your bathroom mirror or a popup notification on your smartphone can keep you from being forgetful.
Ensure you're flossing correctly: start with a strand about 18 inches in length and hold it tightly between your thumbs and forefingers, then gently glide it between your teeth using a rubbing motion. Do not saw back and forth or snap the floss into the gums, as you might risk injuring yourself.
You might have several potential New Year's Resolutions in mind, but flossing regularly is arguably one of the most important and beneficial commitments you can make!
About the Author
Dr. Raj Vekariya attended New York University's College of Dentistry and is a proud member of several professional organizations including the American Dental Association and the Pennsylvania Dental Association. His practice in Canonsburg, PA is thrilled to offer a wide range of preventive, cosmetic, and restorative services. If you have any questions or concerns about your flossing habits, or if you'd like to schedule a visit, you can contact the practice online or by phone for further assistance: (724) 300-3700.