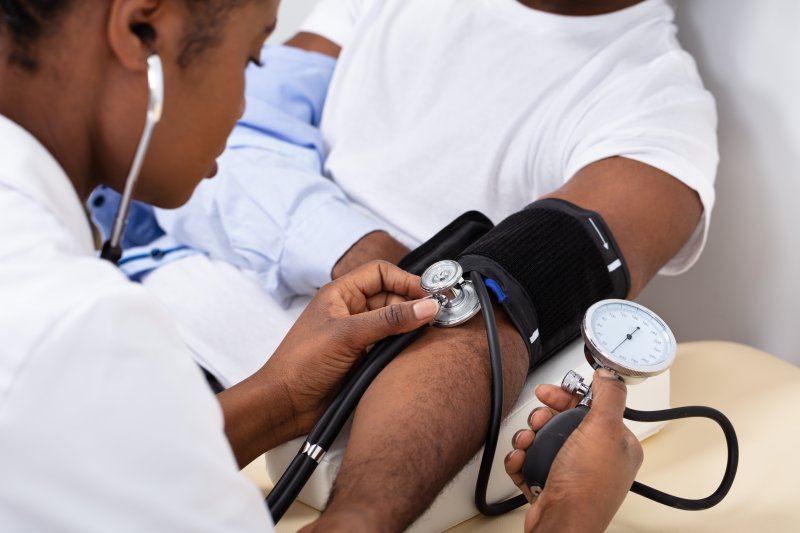 If you haven't had a dental checkup in a while, you might have noticed a new addition to the process: your dentist will now take your blood pressure whenever you see them. For some people, that might seem kind of strange—why would your dentist care about your blood pressure?
As it turns out, there are a few reasons why they would need to know this information. Here's a little bit more information about why your dentist cares about your blood pressure levels.
Local Anesthesia
Patients who haven't seen the dentist in a very long time might be surprised at how powerful modern local anesthetics have become. Many of them include epinephrine, which can keep your mouth numb for a longer period of time. One side effect of epinephrine is that it can elevate your blood pressure, which could be dangerous if you have hypertension. Your dentist needs to know your baseline blood pressure so that they can adjust your dosage of these medicines accordingly.
Stress
Another factor that can contribute to higher blood pressure is stress. Whether they'd like to admit it or not, many people are anxious when they visit the dentist's office, which can cause a dangerous spike in blood pressure in hypertensive patients. If your blood pressure is already dangerously high, your dentist might recommend forgoing certain treatments that could be a little bit stressful.
It's Important
Ultimately, your dentist cares about your overall well-being, not just your teeth. Your dentist takes your blood pressure because it's important. Heart disease is the number one cause of death for adults in the U.S., and hypertension is an early indicator of cardiovascular problems. The recent trend of taking patients' blood pressure at dentist's visits is a consequence of a widespread push to catch heart conditions early, in the hopes of treating them before they become worse. It could just save your life.
As strange as it may seem, your dentist knows what they're doing, and they don't want to waste your time. There are quite a few reasons why your blood pressure is important to your dentist, so checking it before you begin any treatment is definitely a good idea.
About the Author
Dr. Raj Vekariya is a dentist who works tirelessly to improve the quality of healthcare he can provide to his patients. For as long as he's been practicing, his top priority has been making everyone who visits his office feel comfortable while he works with them. Dr. Vekariya studied and worked as a dentist in India for three years before moving to America, where he then received a doctorate from New York University's College of Dentistry.
If you have any questions about checkups, he can be reached at his website or by phone at (724) 300-3700.