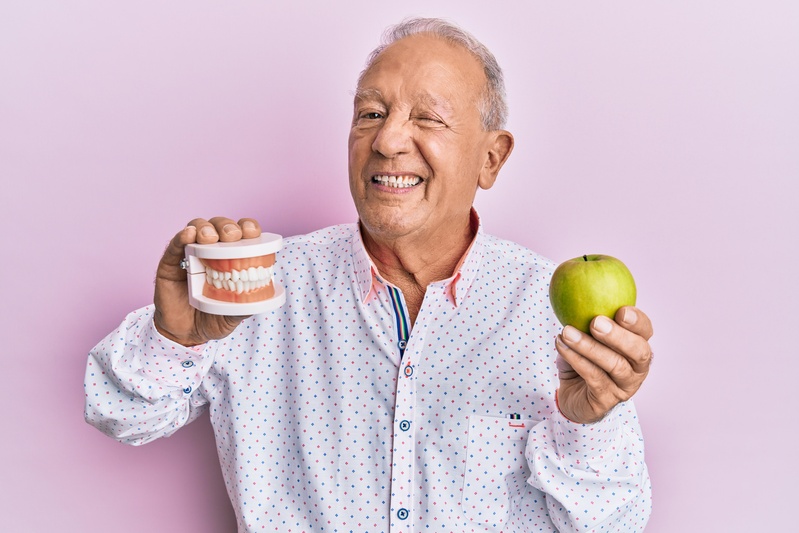 Good foods and drinks can help you live with age-related changes. Even if you aren't as energetic as you once were, you can still have tasty meals for an enjoyable experience. However, this practice can be difficult if your sense of taste suddenly fades or weakens. Rather than an effect of aging, though, did you know your dentures may be to blame? It turns out your prosthetic has features that can hurt your ability to sense flavors. To learn more, here's a summary of the relationship between dentures and taste by a Canonsburg dentist.
How Do Dentures and Taste Relate?
Because dentures are artificial, their materials and features aren't the same as natural teeth. Instead, they rely on things that can affect your sense of taste. In particular, consider the two denture features below:
They Collect Food Deposits
With daily use, dentures naturally build up food deposits, stains, and other debris. When enough of these substances gather, they can overwhelm your senses and contribute to taste loss.
This fact especially applies to cheaper dentures. Low-cost models use poor-quality plastic that's porous and picks up many tastes. As a result, they're more likely to affect your taste negatively.
They Cover Your Palate
Full upper dentures that replace all teeth on your mouth's upper side also conflict with tasting.
Unlike complete lower dentures, full upper ones often use a base plate for stability. This plate helps keep the prosthetic in place but can also cover your palate's taste receptors. Consequently, it's known for causing taste loss.
Tips for Improving Your Sense of Taste
It's possible to adjust, thankfully, so dentures and taste aren't in conflict. Just try doing the following in the future:
Consider dental implants – Switching to implant-retained dentures would remove the need for a base plate that covers taste receptors in your mouth.
Clean your dentures regularly – Regular denture cleaning is one of the best ways to avoid stain buildup and food deposits that alter taste.
Speak to a dentist – Talk to a local dentist about your issue. They can do a thorough exam to discover why you're experiencing taste loss and provide effective solutions.
Your taste fades with age, but don't let it do so more than necessary. Remember to try the tips above so your food these days is as delicious as ever!
About the Practice
Center One Dental is based in Canonsburg, PA. As led by Dr. Raj Vekariya, the practice has a true passion for quality dental care. That means they offer excellent preventive, cosmetic, and restorative dentistry for all ages, including emergency dental treatments. The staff further raises the bar by using the latest dental technology. For more information or to book an appointment, you can reach them at their website or by phone at 724-300-3700.