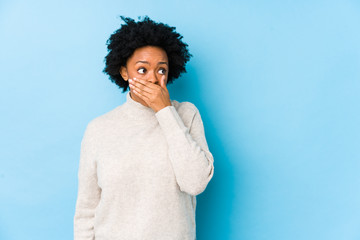 If you have a white tongue, you may be dealing with a fungal infection called oral thrush. It's caused by an overgrowth of the fungus Candida and can grow in the mouth, throat, and other parts of the body. Thrush creates white, raised lesions on the tongue and cheeks and may result in pain, redness, and cracking of the tongue or the corners of the lips. It can also affect your ability to taste. It's most common in children who are still developing their immune systems or older adults whose immune systems are beginning to fail. The white film usually goes away on its own, but read on to learn about some home remedies and prevention methods.
8 Home Remedies for Thrush
As unpleasant as oral thrush can be, there are several home remedies that can help combat it. In addition to good oral hygiene, you can try:
Make a rinse – Dissolve half a teaspoon of salt, baking soda, or turmeric paste in eight ounces of warm water and swish the mixture in your mouth for 1-2 minutes before spitting it out. The baking soda and salt will help cleanse and soothe your mouth, and turmeric has anti-inflammatory and antifungal properties.
Oil – Oreganooil has antimicrobial and antifungal properties. Clove oil can be used as an antiseptic and pain reliever. Add a few drops of one of these oils to a cup of water and swish it in your mouth for a few minutes before spitting it out.
Yogurt – This tasty treat can help restore the balance of yeast in the mouth. Though yogurt doesn't get rid of oral thrush, it can help stop it from spreading.
Lemon juice – Mix the juice of half a lemon into eight ounces of water and either drink or rinse with the mixture.
Apple cider vinegar – The antifungal properties of this vinegar can help treat oral thrush. Add one teaspoon of it to a cup of water and swish for one minute then spit.
5 Ways to Prevent Oral Thrush
Though the above methods will help treat a white tongue and other symptoms of oral thrush, it's best to keep it from developing in the first place. One way to do this is by making a point of visiting your dentist twice per year for checkups and cleaning. They will be able to identify and treat potential signs of this infection before it gets any worse.
You should also rinse your mouth out after using a steroid inhaler for asthma or other breathing issues. Additionally, drink plenty of water and limit the amount of sugar you consume. If you drink excessively or smoke cigarettes, cut out these bad habits to lessen your risk of oral thrush.
Even though it may go away on its own once you stop whatever is causing it, these home remedies may help get rid of or lessen the impact of oral thrush. If it hasn't gone away within a few weeks, visit your primary care provider so they can give you the treatment you need.
About the Practice
If you've been on the lookout for an exceptional dentist in the Canonsburg area, look no further than Dr. Raj Vekariya and his team at Center One Dental. They offer a range of exceptional services to help you prevent oral thrush and keep your oral health in good condition. If you are interested in learning more about the causes of a white tongue or want to schedule an appointment with Center One Dental, call their office at (724) 300-3700 or visit their website.