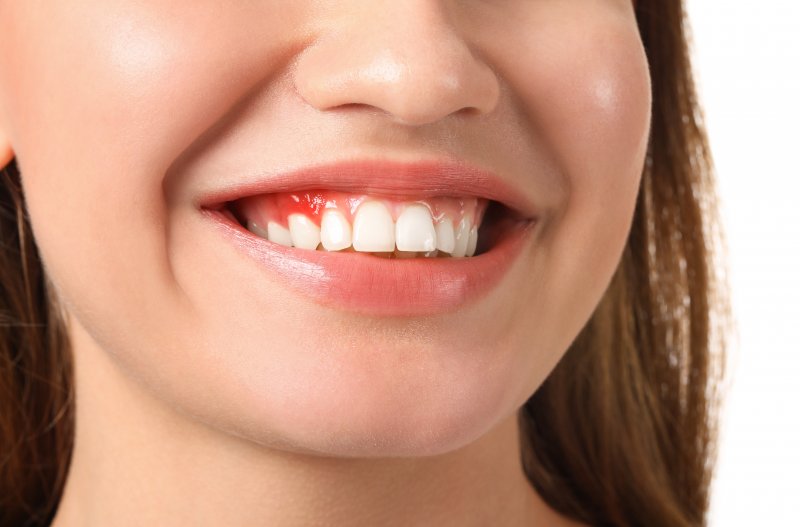 Are you looking to change the appearance of your smile? Are you tired of the chips, cracks, gaps, and misshapen teeth? If so, you're not alone. In fact, many patients are choosing cosmetic dental treatments these days, but if you have gum disease, it may be necessary to hold off on veneers, teeth whitening, or other similar services. A cosmetic dentist is here to explain how swollen and bleeding gums can negatively affect your smile and why you should undergo treatment before working to improve your aesthetics.
Gum Disease 101
If your gums are inflamed, tender, and bleeding after flossing and brushing, there's a good chance you have gum disease. While it may only be in the early stages (gingivitis), it can quickly advance if left untreated. Once bacteria and plaque attack the soft oral tissues, they can begin to spread and form gum pockets that easily trap food particles.
Over time, gum disease can destroy teeth and your bone, causing your pearly whites to become loose and eventually fall out. And should the inflammation and infection enter the bloodstream, you can be faced with negative cognitive decline, heart disease, diabetes, respiratory illness, and other serious health conditions.
The Damaging Reality of Gum Disease & Your Smile
One of the most common problems associated with periodontal disease is gum recession. As the soft oral tissues begin to pull away, teeth appear longer than they used to, exposing the tooth roots. This can lead to sensitivity and further infection.
Another damaging reality of gum disease is tooth loss. As bacteria attack the bone, it will deteriorate over time, causing your teeth to loosen and fall out. Without necessary treatment, your facial structure will begin to change. Your lips may curve inward while your jowls begin to sag. This can cause an aging appearance.
Improving Your Gums Before Your Appearance
No matter if you want veneers or teeth whitening, it's imperative that you undergo gum disease therapy first. If your dentist believes it is necessary, this important treatment can set your teeth and gums up for a successful cosmetic transformation in the future.
Removing the bacteria that is attacking and destroying your gum tissue, teeth, and bone is essential if you want your new restorations to remain in place. Choosing to have your veneers or a metal-free dental crown first put into place will only lead to additional time and money being spent trying to fix your smile.
Depending on the severity of your gum disease, you may only require scaling and root planing to reduce bacterial infections and remove accumulated plaque and tartar. No matter the suggested method of treatment, you can rest assured it will be worth the time and effort.
When meeting with your dentist for an initial consultation, listen and heed their advice if they recommend periodontal therapy. In doing so, you'll set yourself up for greater success when it's time to pursue cosmetic dental treatments.
About the Author
Dr. Raj Vekariya is a native of India who attended dental school and worked as an associate dentist for three years. Once he moved to the U.S., he attended New York University College of Dentistry. Earning his DDS degree in 2011, he completed his certificate program in esthetic and comprehensive dentistry. When working with patients who want a smile transformation, he remains steadfast in ensuring they undergo preliminary care (i.e., periodontal therapy) first, if necessary. If you want to change the look of your smile but are suffering from gum disease, contact us at (724) 300-3700.