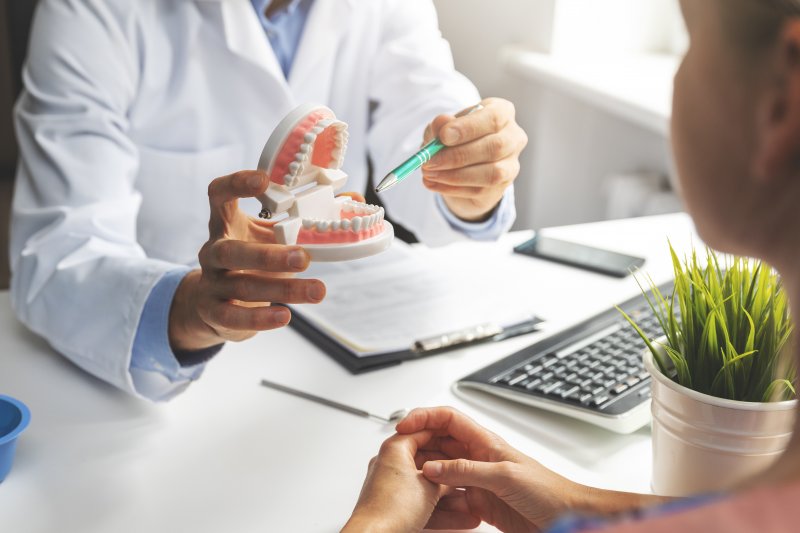 Are you tired of your dentures slipping and sliding around in your mouth? You might be thinking about upgrading to dental implants. They're the most permanent method of tooth replacement, helping patients eat, speak, and smile with complete confidence once again. But because it's a major treatment that requires surgery, the decision to get them should not be made lightly. To help you feel confident that it's the best choice for your smile, here are five questions you should ask at your dental implant consultation.
How Much Experience Do You Have with Dental Implants?
If you want the dental implant procedure to be as smooth sailing as possible, you'll want to make sure you're working with a seasoned dentist. At your consultation, don't be afraid to ask your dentist about their experience with implants. It's the best way to ensure you're receiving quality care! They should be more than willing to provide details about their experience, qualifications, and training.
Am I a Good Candidate for Dental Implants?
Dental implants are one of the best solutions for missing teeth. Unfortunately, it's not a viable option for every patient. Your mouth must be healthy and meet certain parameters before your dentist can begin the process. To determine whether you're a good candidate for implants, they'll evaluate your oral cavity, take X-rays to check bone density, and ask about your dental care and lifestyle habits.
Can You Explain the Dental Implant Process?
Every dental office has a different process for dental implants. Some can complete the entire procedure in-house, while others will refer you to an oral surgeon and only attach the crown. That's why it's crucial to find out whether you'll be working with multiple providers or seeing the same dentist from start to finish. You should also ask how long the entire dental implant process will take. If you require preparation procedures before implant placement, you can expect the process to be longer than average. Since the timeline varies from patient to patient, it's important to find out how long yours is expected to be.
What Should I Expect During Recovery?
One of the most crucial parts of recovery is osseointegration, a process that allows the jawbone to fuse with the implant. It's vital for successful treatment, taking anywhere from three to six months to complete. By diligently following your dentist's aftercare instructions, you can expect the healing process to be as comfortable and smooth sailing as possible!
How Long Do Dental Implants Last?
Because dental implants are surgically inserted into the jawbone, they're considered one of the most permanent solutions for missing teeth. With proper dental care, you can expect your implants to last well over a decade – sometimes even longer! At your consultation, be sure to ask how you can help your restored grin last as long as possible.
By asking these questions at your dental implant consultation, you can end your visit feeling well-informed and confident in your decision to upgrade to dental implants!
About the Author
Dr. Raj Vekariya is passionate about helping patients achieve and maintain their absolute best smiles. He earned his Doctor of Dental Surgery degree at New York University's College of Dentistry. If you have missing teeth, Dr. Vekariya can restore your smile and confidence with dental implants. He and his team use the latest technologies, techniques, and materials to ensure you receive the quality treatment you deserve. To schedule a dental implant consultation with Dr. Vekariya, visit our website or call (724) 300-3700.