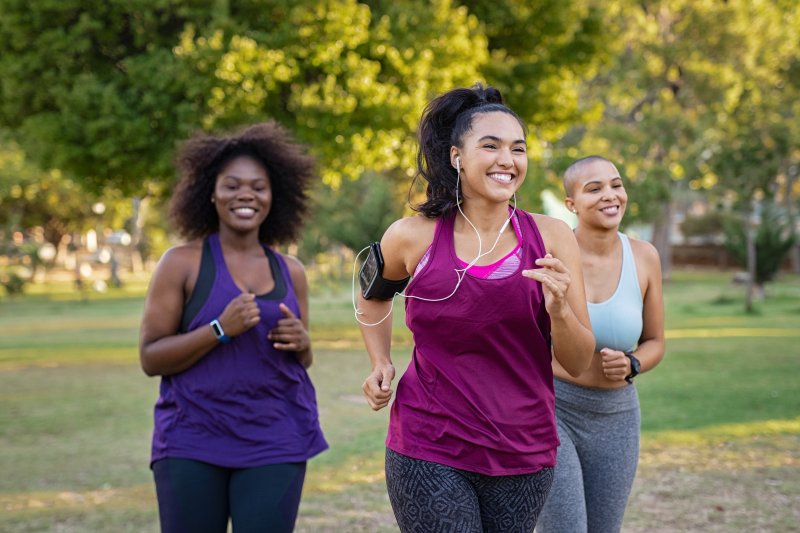 You should be exercising regularly in order to stay strong and healthy. Along with maintaining a nutritious diet, you will be setting your body up for success. Exercise has a much bigger effect on your overall wellbeing than you may think. In fact, having optimal dental health and avoiding gum disease relies on you staying active on a regular basis. Continue reading to learn more about the relationship between the two.
What Is Gum Disease?
Gum disease is an infection of the tissue that holds your teeth into place. This condition is usually caused by poor oral hygiene. Plaque and tartar build up on the teeth and can cause inflammation of the soft tissue holding them into place. Here are just a few of the most common symptoms:
Bad breath
Red and swollen gums
Tender and bleeding gums
Painful chewing
This infection can also lead to numerous different health problems throughout your body, including diabetes and cardiovascular disease. Your oral health and overall health are directly related.
How Can Exercise Help to Prevent Gum Disease?
By exercising regularly, you can reduce your risk of developing gum disease. A study that was done by Colgate found that non-smokers who exercised regularly were 54% less likely to develop gum disease than non-smokers who didn't stay active with regular exercise. When you exercise often, your digestive system is more likely to function as it should. This is because you're increasing your blood flow and allowing food to move through your digestive system more effectively. In the end, your body is able to absorb the vitamins and minerals you need to have better overall and dental health. By having an improved digestive system, you will all be able to fight off infections more easily.
How Else Can Gum Disease Be Prevented?
Here are a few other steps you should take in order to keep your gums healthy:
Brush: You should brush your teeth twice a day to remove food debris and plaque that are lingering in your mouth.
Floss: Brushing isn't enough by itself. You should use dental floss to clear away food particles, plaque, and bacteria from between the teeth and beneath the gumline.
Mouthwash: Rinsing with mouthwash helps to reduce plaque and wash away lingering food particles in the mouth after brushing and flossing.
Don't smoke: Smoking doubles your risk of developing gum disease. It is also linked to oral cancer among many other medical issues. Talk to your doctor, friends, and family about the best ways for you to quit.
See your dentist: If gum disease is discovered early on, steps can be taken to reverse it with gum disease therapy before it becomes too serious. You should see your dentist every six months for regular checkups.
By being active in your everyday life, you are doing more than just staying fit. You are helping to keep your smile in healthy shape!
About the Author
Dr. Raj Vekariya first studied dentistry in India where he worked as an associate dentist for three years. Later on, he made the choice to move to the United States and attend New York University's College of Dentistry where he earned his Doctor of Dental Surgery degree and completed his Certificate program in Esthetic and Comprehensive Dentistry. For more ways to keep your smile healthy or to schedule an appointment at his office in Canonsburg, PA, visit his website or call (724) 300-3700.