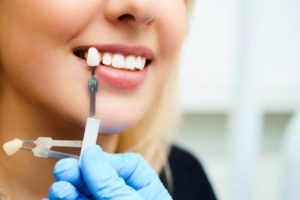 Most people are not born with straight, beautiful smiles. Luckily, modern dentistry makes it easy for anyone to have dazzling white teeth, but the price tag that goes along with it can be a bit daunting. It can be tempting to avoid the dentist altogether when you have crooked teeth or severe dental staining. The good news is that cost-effective cosmetic treatments and many dental financing options can help you achieve the smile you deserve. Keep reading to find out what you may be able to afford now and smart ways that can assist with the costs!
Dental Treatments That Won't Break the Bank
There is a common belief that cosmetic dentistry treatments are expensive, but the right dentist can help you brighten your smile without emptying your pockets. Here are three treatments that might work well for your current dental needs and budget:
Professional At-Home Teeth Whitening
If you have slight tooth discoloration, spotting or decalcification on your teeth or even coffee and tobacco stains, professional teeth whitening can help! Many whitening products are available in your local grocery store or drug store, but an at-home kit purchased from your dentist will give you results that over-the-counter items simply cannot deliver. Your dentist will design custom application trays for your treatment and provide professional-grade bleaching agents so you can whiten your teeth in the comfort of your own home. This option costs less than in-office whitening, but you still get very similar results! 
Direct Bonding
Chips, gaps, and crooked or misshapen teeth can be enough to make you cover your mouth when you smile. Direct bonding is a great way to correct these issues or even help with dental sensitivity caused by worn-down enamel. Your dentist will create a durable tooth-colored composite resin to your tooth and sculpt it to give your teeth the perfect look. This can be done in under an hour and can last for more than 10 years!
Financing Options
There are many ways to finance your dental care. On idea is to set up a health savings account which collects pre-tax money each month that you can use for dental care. Another option is to apply for assistance from third-party services like CareCredit that your dentist may work with. If you have immediate dental care needs, you may also consider taking out a personal loan. It is often a better option than using a credit card because personal loans typically carry lower interest rates.
Having a white, straight smile can open many doors, so it makes sense for people to seek the help of a cosmetic dentist. Once you climb into the dental chair and receive an exam, your dentist will be able to help you decide which treatments might work best for your budget and provide insight into what financing options are available.
About the Author
At Center One Dental, Dr. Raj Vekariya makes it a priority to provide his patients with personalized, comprehensive dental care in a comfortable environment. He received his Doctor of Dental Surgery degree and certificate in Esthetic and Comprehensive Dentistry from the New York University College of Dentistry. If you're ready to transform your smile, Dr. Raj is happy to help! Contact the office at (724) 300-3700 or visit the website to schedule an appointment today!