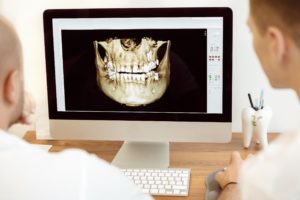 Dentists can preserve teeth for longer than ever using the latest advancements in dentistry. New technologies, techniques, and methods transform all aspects of your dental care to keep your teeth and gums healthy. With innovations around every corner, it can be difficult to keep up with new dental trends. Here are 5 revolutionary improvements you can expect to see over the next decade.
1. Artificial Intelligence
Technology makes our lives easier in several areas thanks to artificial intelligence. As AI continues to grow, there will be less room for error when creating treatment plans for restorations and orthodontics. Intelligence systems will be able to review X-rays and scans to establish accurate treatments more efficiently. Not to mention, it can have the capabilities to detect a variety of oral pathologies to develop comprehensive solutions.
2. Group Dentistry
There are more options than ever to choose from dental plans and providers, which can make things very confusing. As a result, 97% of adults don't maximize their annual dental insurance benefits. As dental offices join together, they'll offer a standardized system to help patients enjoy affordable services to leverage the power of consistent care.
3. More Hygienist Responsibility
Your dental hygienist will have a more active role in your treatment plans. Supervision laws are broadening, opening the door for hygienists to perform more Phase 1 / 2 dentistry. Your dentist will have more time to focus on complex procedures, like crowns or orthodontics. Your hygienist can be an aspect of your preventive, diagnostic, and restorative care for more comprehensive services.
4. Purchasing Patterns
With cash being used less often, your dentist will offer more ways to pay. You'll enjoy a variety of solutions to keep your care within your budget. With improved booking, payment, and pre-authorization methods, your treatments will be streamlined while also being able to better track your dental data. You'll have more transparency to how your insurance plan can be used to pay for your treatments, as well as a better understanding of your oral health expenses.
5. Mobile Dentistry
You'll have more convenient options to visit your dentist, so you'll never need to skip an appointment again. Besides tele-dentistry, there will be mobile clinics, pup-up locations, and digital services to make it easier to enjoy the professional care your teeth and gums rely on to stay healthy. Your dentist can come to you using an integrative approach.
Choose Modern Services
As new technologies transform your dental care, embrace the innovations to benefit from high-quality dentistry. The advanced solutions will help you reach and maintain your oral health goals to ensure your smile lasts for a lifetime.
About Dr. Raj Vekariya
Dr. Raj earned his dental degree at the New York University's College of Dentistry and completed his Certificate program in Esthetics and Comprehensive Dentistry. He embraces the latest innovations in dentistry to provide advanced services for his patients. If you're ready to enjoy a modern approach to dental care, contact our office today to schedule your appointment.