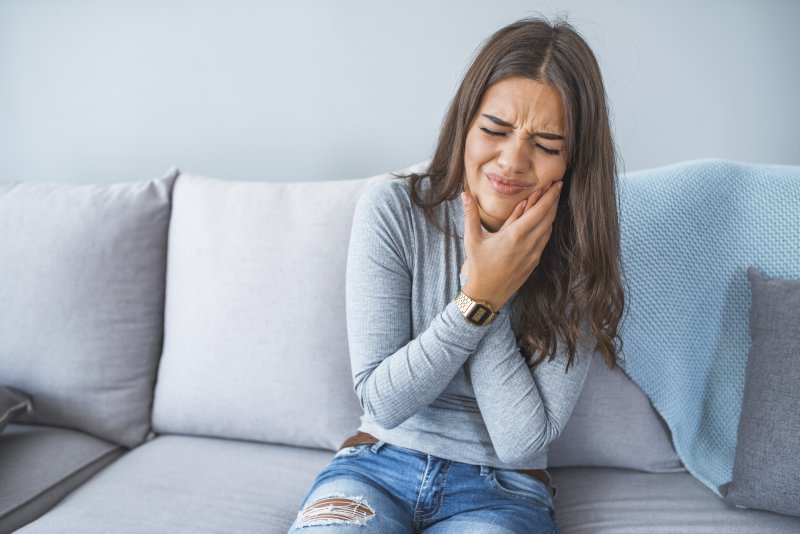 Imagine this: to relax and unwind from a strenuous day, you decide to have an at-home movie night. After searching through Netflix and making a fresh bag of popcorn, you sink into your cozy chair and watch the opening credits scroll by. Suddenly, your teeth come down hard on an uncooked kernel! A sharp, stabbing pain ensues as you rush to the mirror and confirm your initial suspicion: your tooth is cracked.
An inconvenient, distressing dental emergency like this can be anxiety-inducing if you aren't sure where to turn for fast, effective treatment. Should you head to your dentist? Or would the emergency room be a better option? Read on for the answer!
What Is Considered a Dental Emergency?
From a minor toothache to a knocked-out tooth, there are a multitude of dental issues that can arise at a moment's notice. While each of these concerns requires professional treatment, dental emergencies necessitate a same-day appointment to cure the root of the issue and provide lasting pain relief. To help you decide whether you need an urgent appointment, here are five dental emergencies:
A severe toothache.
Painful facial swelling.
Abnormal bleeding.
Loose or missing permanent teeth.
Damaged restorations (i.e., fillings, crowns, etc.).
Do Emergency Rooms Have Dentists?
Since emergency rooms are designed to quickly treat all kinds of ailments, many patients assume that hospitals have a dentist on staff. However, that is rarely the case. Instead, their team will monitor your symptoms, help you manage your pain, and refer you back to your dentist. While this can be extremely helpful in getting the fast, effective pain relief you require, it can also result in a hefty medical bill. Therefore, it is beneficial to contact your dentist first!
When Should You Visit an Emergency Room?
Since your dentist is the only medical professional licensed to practice dentistry, they should be your first call to save your tooth and your wallet. However, there are certain scenarios where visiting the ER is the preferable choice. For example, if you have a fractured or broken jawbone or difficulty breathing or swallowing, then immediately head to the hospital.
Dealing with a sudden dental emergency can be traumatic. Fortunately, knowing where to turn for treatment can help you get the fast, long-lasting treatment you need quickly!
About the Author
After attending New York University's College of Dentistry to earn his Doctor of Dental Surgery, Dr. Raj Vekariya completed his Certificate program in Esthetic and Comprehensive Dentistry. Today, he uses his 10+ years of experience and passion for dentistry to provide world-class care that is second to none. So, whether you need a routine cleaning, smile upgrade, or same-day treatment, Dr. Vekariya is ready to help! If you are looking for an emergency dentist, don't hesitate to visit his website or give him a call at 724-300-3700.