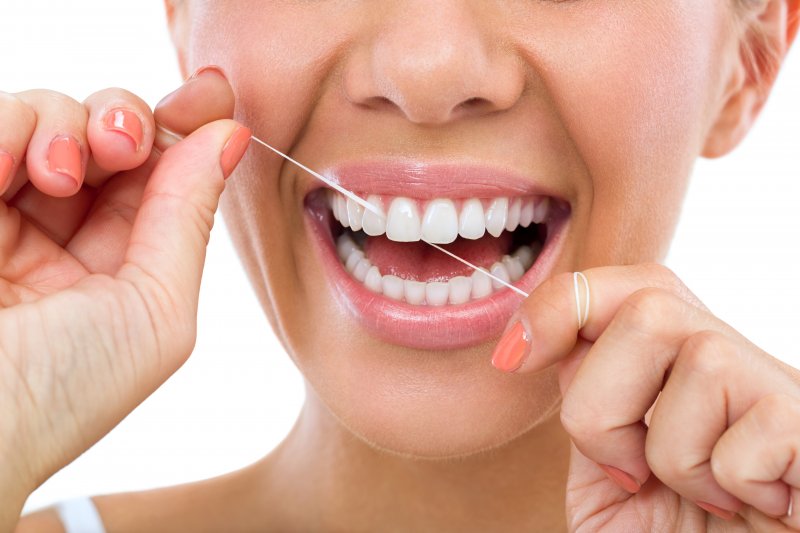 Does this sound familiar? After a long, stressful day, you barely muster up the energy to make dinner before collapsing onto your bed. The sheets are so warm and inviting, and you effortlessly sink into them as your eyes get heavier and heavier. As you are about to drift into sleep, you are jolted awake by the realization that you haven't brushed or flossed your teeth! Half asleep, you decide a quick rinse with toothpaste and water will do the trick before getting back into bed.
Let's be honest, flossing isn't everyone's favorite activity, but it plays a crucial role in your oral and overall health. Read on for the dangers of not flossing, as well as additional ways to improve your oral health.
The Dangers of Not Flossing That Every Patient Should Know
Did you know that a whopping 70% of American adults don't floss regularly? All too often, this portion of the oral hygiene regimen is viewed as optional; however, it plays a crucial role in removing stubborn food particles and plaque. If neglected, the debris can continue to spread bacteria and result in an infection. Although an untreated ailment in any part of your body is dangerous, it is especially risky since your mouth is close to your brain and is the entryway to your digestive tract. If given the opportunity to spread, it can lead to cardiovascular disease, lung disease, and diabetes (to name a few!). Therefore, it is important to floss daily!
Brush Up! 5 Additional Preventive Measures
Alone, flossing can effectively remove lodged food particles and prevent plaque buildup. However, it is especially powerful when combined with other preventive care measures. Therefore, make sure to prioritize the health of your teeth and gums by:
Brushing your teeth for two minutes twice a day.
Using mouthwash regularly.
Visiting your dentist twice a year for a checkup and professional cleaning.
Avoiding sugary beverages and snacks.
Drinking plenty of water throughout the day.
When your bed is calling your name, it can be difficult to summon the motivation to get up and complete your entire dental hygiene routine. However, it is helpful to remember that flossing isn't just a recommendation, it is a crucial part of your regimen that can protect both your oral and overall health. Therefore, make sure to never skip your daily flossing!
About the Practice
At Center One Dental, patients can expect a personalized approach to care, a comprehensive array of services, and high-quality dentistry at their state-of-the-art facility. With his talented team at his side, Dr. Raj Vekariya uses his extensive experience, clinical skill, and genuine passion for dentistry to help his patients achieve healthy, strong smiles for years to come. If you would like to schedule your bi-yearly appointment, visit their website or give them a call at 724-300-3700.