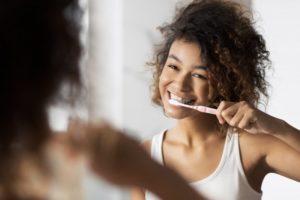 Maintaining a beautiful smile, healthy gums, and white teeth require a lifetime commitment to an effective dental hygiene routine. However, study after study has shown that Americans seriously neglect their oral care. In fact, roughly 23% of people in the U.S. have gone two or more days without brushing their teeth and another 20% admitted to not flossing their teeth at all. With tooth decay and other dental issues on the rise, it is more important now than ever that you follow these four preventive measures recommended by your dentist.
Brush Your Teeth At Least Twice A Day
Early morning wake-up calls and sleepy evenings before bed can make the idea of skipping brushing so tempting. However, in the fight against cavities, tooth decay, and gum disease, taking the time to properly brush your teeth at least twice a day can make all the difference. Each time you grab your toothbrush, make sure to:
Use a pea-size amount of toothpaste and clean, running water.
Gently brush for at least two minutes.
Do small, circular motions to remove plaque.
Use the bristles to clean even the hard to reach areas, like the back molars.
Floss Daily
Have you heard of an Interproximal Cavity? While this cavity is created like any other, this specific type occurs when it forms between two teeth. This is just one of the many reasons why flossing daily is so important. Making a consistent habit of brushing your teeth daily can remove bacteria and particles that cling to your teeth and cause damage. However, only flossing can dislodge debris that is deeply wedged between your teeth.
Always Clean Your Tongue
Did you know that there are roughly 20 million bacteria in your mouth at any given time and that they can reproduce every five hours? Yikes! That is why it is crucial that a proper cleaning of every surface of your mouth is included in your dental hygiene routine. To prevent your mouth from becoming a breeding ground for bacteria, make sure to use a tongue scraper or cleaner in your daily dental hygiene routine.
Incorporate Good Eating Habits
In order for the integrity of your teeth to remain strong, they need to be given all of the vitamins and nutrients they need. While reaching for an ice-cold glass of soda or bag of crunchy chips can be tempting, they are not the best options when it comes to your oral care. Time and time again, sugary drinks and hard foods result in damaged teeth and tooth decay. Instead, opt for a glass of water (with fluoride if possible) and a vitamin-rich snack (like an apple).
Incorporating these good oral care habits can be difficult to remember if they aren't a part of your daily routine. However, they each play a vital role in preserving your beautiful smile for years to come!
About the Author
After graduating from the prestigious New York University's College of Dentistry, Dr. Raj Vekariya earned his Doctor of Dental Surgery. For the past decade, Dr. Vekariya has lived out his passion by providing the people of Canonsburg with the highest level of attention and care. Whether you are coming in for a routine checkup, professional cleaning, or dental treatment, Dr. Vekariya and his team are dedicated to eliminating any stress and ensuring that you feel taken care of. Before typing "dentist near me" into Google, visit his website or give him a call at 724-300-3700.