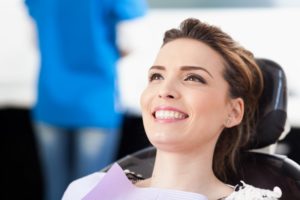 Have you ever heard the saying, "An ounce of prevention is worth a pound of cure?" Even though those words were spoken in 1736 by Benjamin Franklin, they still ring true today, especially when it comes to dental care. Many people believe that attending regular dental checkups and cleanings is a waste of money. After all, if you already brush and floss at home, do you really need to get your teeth cleaned by a dentist? The answer is a definite yes! Here are a few ways that visiting your dentist every six months can save you money.
Diagnose Problems Like Cavities and Gum Disease
Oftentimes, many dental health problems, like gum disease and tooth decay, don't present symptoms like pain or discomfort until serious damage has already been done. For example, a tiny cavity in your enamel can spread to the sensitive center of the tooth where the nerves are located, resulting in extreme pain and extensive treatment like a root canal. At your biannual checkups, your dentist can thoroughly examine your mouth to determine whether these issues are present.
Get Early Treatment for Oral Health Issues
By getting your oral health problems diagnosed, you can get them treated early on and avoid potentially costly procedures. Root canals are more expensive than getting a simple filling for your cavity. Scaling and root planing to treat gum disease costs much more than a round of antibiotics to treat gingivitis, the early stage of gum disease. In the case of oral cancer, getting any problem areas checked out could even save your life.
Avoid Expensive Complications
In terms of your health, the mouth is often considered a window to the rest of the body. Gum disease in particular has been linked to health problems in the rest of the body, including diabetes, Alzheimer's disease, and an increased risk of heart attack and stroke. Regular cleanings can reduce plaque and tartar that contribute to gum disease in the first place. By attending these appointments, you can avoid not only gum disease, but all sorts of overall health problems as well.
Although getting a teeth cleaning every six months might eat into your budget a little bit, especially if you don't have dental insurance, it's significantly less expensive than the consequences of putting off these cleanings. To avoid oral and general health problems, call your dentist today to schedule an appointment.
About the Author
Dr. Raj Vekariya worked as an associate dentist in India before moving to the United States and pursuing his Doctor of Dental Surgery degree from the prestigious New York University. He strongly believes in the power of preventive dentistry, which entails regular dental cleanings and checkups every six months. To book your next appointment, visit Dr. Raj's website.