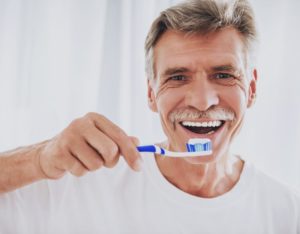 After suffering through having missing teeth for a while now, you decided to take the plunge and replace them with dental implants. You've heard that they can last for decades, maybe even the rest of your life. However, this is only true if you take excellent care of them. This is why your implant dentist has written a guide to making your dental implants last a lifetime with proper maintenance.
Brush and Floss After Eating
Cleaning your teeth after a meal or snack is important whether your teeth are natural or implants. If you don't brush or floss your implant, food particles that are left behind can attract dangerous bacteria that can contribute to gum disease. Gum disease has the potential to make your body reject your implant, meaning the whole placement surgery was for nothing.
Use a Non-Abrasive Toothpaste
Many kinds of toothpaste that market themselves as "whitening" or "brightening" can actually be abrasive to your implant restoration. Instead, opt for a toothpaste that promises plaque and tartar control, since those substances can compromise the long-term success of your implant.
Rinse with an Antimicrobial Mouthwash
After you're finished brushing and flossing, be sure to rinse with mouthwash. Choose a mouth rinse that doesn't contain alcohol, since alcohol dries out your mouth and increases your risk of infection. If you still have natural teeth left, try and pick out a mouthwash that also contains fluoride, because fluoride strengthens your enamel.
See Your Implant Dentist Regularly
When you first get a dental implant, you'll have to visit your dentist every few weeks to make sure your mouth is healing properly. After the initial healing process is complete, you should still see your dentist twice a year as recommended. At these appointments, your implant site will be evaluated to ensure the implant is still functioning as it should.
Watch What You Eat
Although dental implants are impervious to tooth decay, you should still be wary of sugary snacks and beverages. When you consume these items, bacteria in your mouth feast on them and leave behind a descriptive waste product that can cause not only cavities in your remaining teeth, but gum disease as well. Also, avoid chewing on hard objects, like your fingernails, pens, ice, and hard candies, especially during the first few months. Doing so can injure your implant.
Dental implants are often considered the best solution to tooth loss that modern dentistry has to offer. Follow these tips to a T and yours should last for decades to come!
About the Author
Dr. Raj Vekariya earned a dentistry degree in India before attending New York University to achieve his Doctor of Dental Surgery degree. He is more than qualified to place and restore dental implants at his Canonsburg, PA practice. If you're interested in finally bridging the gap in your smile with dental implants, you can reach Dr. Raj through his website or by calling (724) 300-3700.