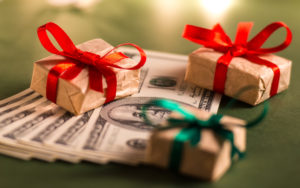 Has it been longer than six months since you've seen your dentist for a checkup and cleaning? Because your insurance benefits expire on January 1st, to get the most out of them, you'll need to use them before then. Even though dental insurance can be a tricky and stressful subject to navigate, it's important to know the basics of your plan so you can optimize your oral health while saving money by avoiding steep out-of-pocket costs. Read on for four tips to help you get the most out of your dental insurance policy before it renews.
Get the Most From Your Paid Deductible
Every year, your dental insurance company sets a deductible, which is a set amount of fees that you have to pay out of your own pocket directly to your dentist before your benefits will kick in. The average deductible is $50, but once it's paid, you won't have to worry about it again until your policy renews on January 1st. To get the most out of your paid deductible, be sure to receive all the dental treatments you need before you have to pay it again.
Exceed or Meet Your Yearly Maximum
Similar to your deductible, you'll also have something called a maximum. This is a capped amount on how much your dental insurance company will cover for your dental treatments in a 12-month span of time. The average maximum is between $1000 and $1500, which means that any amount that you use over this will come out of your own pocket, and any amount under your benefit cap will fall back into the pockets of your insurance providers. The best way to maximize your annual cap is to optimize your oral health by using as much of it as possible. That way, you won't be wasting money that could be used for necessary dental treatments.
Keep Up With Preventive Care
Insurance companies try to encourage patients to be proactive about taking care of their oral health, which is why the typical policy includes two covered checkups and cleanings with your dentist every year. They often will only allow them to be scheduled six months apart to ensure that you're receiving routine oral examinations to catch the small problems before they have a chance to get worse. Getting the most out of your plan means utilizing these two covered visits before you lose them on January 1st.
Treat Oral Health Issues While They're Small
Small oral health problems require minimally invasive and less costly treatments than severe problems, and your insurance providers know that. That's why most plans use a 100-80-50 model. What this means is that they cover 100 percent of preventive care, including your two checkups and cleanings, 80 percent of basic treatments like cavity fillings, and 50 percent of major procedures such as root canal therapy. To avoid steep out-of-pocket costs, be sure to utilize your benefits by treating your oral health problems sooner rather than later.
Oftentimes, insurance companies and dentists use the term "use it or lose it" to describe how patient coverage works. If you have leftover benefits on January 1st, they go untouched. That's why it's important to regularly receive preventive dental care over the course of the year, so you can get all the treatments you need to optimize your oral health and get the most out of your investment in insurance.
About the Author
Dr. Raj Vekariya is passionate about giving his patients the tools and knowledge they need to maintain great oral health. He is an in-network provider for United Concordia, MetLife, Aetna, Cigna, Delta, and Guardian insurance plans. He is happy to help patients learn more about their policies so they can maximize their benefits while keeping their mouth as healthy as ever. For questions or to schedule an appointment for a routine checkup and cleaning, visit Center One Dental's website or call 724-300-3700.