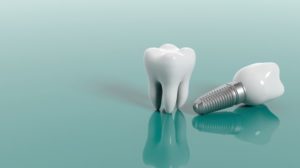 Dental implants are the best option currently available for restoring missing teeth. Implants can last a lifetime with the proper care. Of course, like any type of restoration, they do require a little care and attention. Knowing how to keep your implants looking and functioning their best is important for ensuring you get the maximum return on your investment.
Types of Dental Implants
Dental implants fall into two broad categories: permanent implants that are nonremovable and implant-supported dentures. The first category encompasses both single tooth implants and implant-supported bridges, sometimes referred to as "all on four" or "all on six" implants.
The second type of implant is similar to traditional dentures, except that the restoration itself is supported by a series of implants embedded in the patient's jaw. These products can be removed for cleaning or to tend to personal tasks. They require no adhesives and can never come loose on their own. Now let's look at how to care for each type of restoration.
Caring for Permanent Implants
Daily care should include:
Brushing: you should brush both the restoration itself and any remaining natural teeth with a soft-bristle toothbrush and nonabrasive toothpaste. It's important to do this at least twice a day; after every meal is preferable.
Flossing: most of us learned how to perform this basic self-care task early in life. When you have implants, however, flossing may require a slightly different approach than what you're used to. Your implant dentist will show you the correct technique. You can also find helpful dentist-created videos online.
Eating a sensible diet: your implants rely on the strength of the underlying bones for their resilience, just like healthy natural teeth. It's important to give your body the fuel it needs to keep them strong and healthy. It's also important to minimize consumption of sugars, simple carbs, and acidic beverages.
Caring for Implant-Supported Dentures
Daily care should include:
Inspecting the product: implant-supported dentures use a series of clips, O-rings, and locator caps to stay in place. You should give these components a close visual inspection daily. Contact your implant dentist right away in the unlikely event you notice cause for concern.
Brushing the product: it's especially important to brush the underside of the restoration. A denture brush is a good choice for this task.
Soaking the product: your dentist will recommend the right cleaner for this step.
Maintaining the product: implant-supported dentures are both strong and beautiful. Nevertheless, the hardware underneath the appliance may need replacing on an annual basis to keep it in top shape. Your implant dentist will give you more information.
Rinsing the product: you should always rinse the restoration as a final step before putting it back in your mouth.
 Keeping It All in Perspective
Dental implants are the best form of tooth restoration on earth. The minimal amount of care they require pales in comparison to the benefits they provide in return. Keep this in mind as you're weighing your treatment options. Your dentist will be glad to answer your questions and provide additional tips. Before long you'll find yourself with a restored smile and a healthier, happier life.
About the Author
Dr. Raj Vekariya, known affectionately to his patients as "Dr. Raj," comes from a family tradition of providing outstanding healthcare services. He earned his DDS degree from New York University's College of Dentistry and has completed advanced training in  esthetic and comprehensive dentistry as well. You can reach his office online or by calling (724) 300-3700.