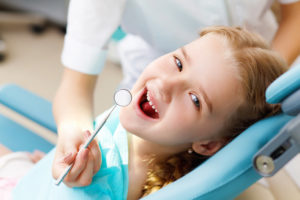 Summer is wrapping up — and whether you're sad to say goodbye to long evenings or looking forward to the fresh start, you've probably got a lot on your plate right now. Between shopping for school supplies and getting your child ready for the new routine, August is a busy month! While you're busy running around getting everything ready, have you considered perhaps the most important thing of all… your child's smile? Scheduling a back-to-school checkup and cleaning is a great idea for kids of all ages. Keep reading to find out why!
Summer Takes a Toll on Oral Health
For most kids, June and July are months synonymous with popsicles, ice cream, and long days at the swimming pool. But combining sweet treats with a break from the routine can spell trouble for growing smiles. Sleepovers and vacations may mean toothbrushes are forgotten or excellent oral hygiene practices falter. And, when sugar and food particles are allowed to linger on or around the teeth, cavities are not far behind.
Prevention Is Key
Scheduling an appointment with your child's dentist this time of year is a wise idea because catching cavities early is key to conservative treatment. Sometimes a cavity can even be prevented if the weak spot in the tooth enamel is caught early enough — applying a topical fluoride treatment can strengthen the area and keep a hole from forming at all. Plus, a thorough cleaning will wipe away all the plaque and tartar buildup to help your little one start the new school year off with a clean, confident, and beautiful smile.
What to Expect
A back-to-school dental appointment isn't much different from what you and your child are already used to at the dentist. First, your child's hygienist will take X-rays if needed and clean away plaque and tartar buildup. Important educational information is also shared during this time, like how to take better care of teeth and gums at home. Once the teeth are all clean, the dentist will come in to perform a tooth-by-tooth examination and also check out the X-rays. If any issues are present, a follow-up appointment will be booked for treatment. If not, you'll be free to go on your way — feeling good with the knowledge that your little one can start the year off with a healthy set of teeth!
Make your child's oral health a priority while you're getting ready to go back to school. This small step can have a lasting impact in their overall oral health and wellness — so don't delay!
Meet the Practice
At Center One Dental, family dentist Dr. Raj Vekariya and his team offer superior dental care from the comfort of their friendly, state-of-the-art practice. They encourage all families to make a visit to the dentist a priority at back-to-school time! To learn more or to book a visit for your little one, go ahead and get in touch by phone at 724-300-3700.