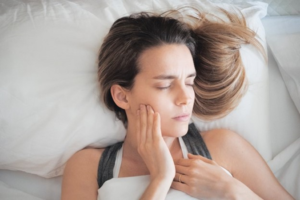 To put it simply, tooth pain can be quite frustrating. Not only is the cause of the pain sometimes unclear, but these aches have a knack for occurring when it's incredibly inconvenient—such as when you're trying to sleep! But what causes toothaches to occur at nighttime, and how can the discomfort be effectively remedied? Here's what your emergency dentist wants you to know!
Six Common Causes for Nighttime Tooth Pain
Tooth pain doesn't always have an obvious cause: sometimes it's clear what the issue is, such as exterior damage to the tooth. Other times, the explanation requires a little detective work from a skilled dental professional. In any case, here are a few of the most common causes of nighttime tooth pain.
Increase in circulation – Did you know that when you lay down to sleep, your blood pressure increases? This increase in blood flow can push against the nerves near your teeth, causing them to feel extra sensitive and receptive to pain.
Late-night snacking – Snacking close to bedtime gives food particles the chance to linger inside of your mouth all night long, which can spell bad news for your oral health and exacerbate issues like cavities and decay.
Bruxism – If you're prone to clenching your jaw or grinding your teeth, the habit can cause jaw pain, sensitivity, and other issues that affect the temporomandibular joints, which are responsible for connecting your jaw to your skull.
Broken dental appliance – If you have damaged orthodontics or a compromised dental restoration, they might cause issues inside of your mouth at nighttime.
Chronically poor oral health – It goes without saying that if you have untreated cavities, gum disease, or any other uncomfortable issues resulting from lack of oral care, they can be quite bothersome at nighttime.
Fewer distractions – Lastly, there are simply fewer things occurring during the night that might take your mind off of your pain—this can make your discomfort seem worse than it actually is, but that's not to say the problem isn't worth addressing.
Tips for Finding Relief from Nighttime Tooth Pain
Here are a few useful tips you can utilize to combat your nighttime tooth pain:
Take over-the-counter pain relievers, such as ibuprofen, as needed.
Cold compresses, ice packs, or even a bag of frozen vegetables can be applied to the side of the face that's hurting. Do this for about 20 minutes at a time.
If you're experiencing sinus pressure or an infection, consider taking a decongestant.
Sleep with your head elevated, using pillows to prop it up. This can reduce the pressure caused by increased circulation due to laying down.
Other safe at-home remedies include lukewarm saltwater rinses, placing a teabag against your aching gums, or even using clove oil can help.
Tooth pain can occur anytime, day or night—and it's unlikely to ever magically disappear, meaning that professional treatment is always going to be your best course of action!
About the Practice
Center One Dental has proudly served the dental needs of patients and families in the Canonsburg, PA community for several years. The practice is led by Dr. Raj Vekariya, who received his DDS from New York University's College of Dentistry and is a member of several notable professional dental organizations, including the American Dental Association and the Pennsylvania Dental Association. If you have any questions about the blog or you require toothache relief, don't hesitate to contact the practice today for assistance! Telephone: (724) 300-3700.