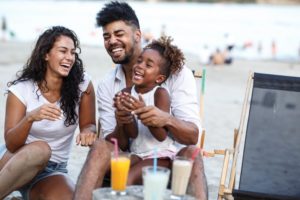 Is there anything quite like summertime fun? From beach vacations to visiting a destination you've always wanted to see, there are many special memories to make during the warmer months. One of the things that can make your vacation smoother and more "picture-perfect" is visiting your dentist for a checkup and cleaning well before you leave! Here are four reasons why tending to your smile before a vacation is a superb idea.
#1: You'll Prevent Any Oral Health Issues
As with many vacations, you will likely be indulging in delicious meals and treats. While that is a part of the fun of traveling (and enjoying your loved ones!), it can take a toll on your oral health. You may not only be exposing your teeth to more sugar and carbohydrates than normal, but the busyness of vacation can make you neglect your dental hygiene routine. By attending a dental checkup before your trip, your dentist can give you a thorough cleaning as well as treat any underlying issues. Your smile will be in good shape for your few weeks of fun!
#2: You'll Give Yourself Enough Recovery Time
If you are in need of a more complex dental procedure, a dental visit before your summer fun will give you time to recover. No one wants to try and enjoy a vacation while their mouth is healing! Additionally, if you want a renewed smile for your pictures and are considering cosmetic dentistry, you want to give yourself enough time to accomplish your dental goals, especially since some treatments can take a few visits to complete.
#3: You'll Avoid an Unexpected Dental Visit
A dental emergency on a regular day can be alarming…but having one on vacation can be exceptionally challenging! It can be tough to try to find the best care as well as figure out the health care system in another place. By visiting your dentist before you leave, your dentist can spot any underlying issues that you haven't noticed yet and treat them immediately.
#4: You'll Guarantee Beautiful Photos
It's so fun to look back at vacation photos and relive the wonderful times. It's even better when you love how your smile looks! By visiting your dentist for a cleaning, and getting any other smile-enhancement treatments, you can count on a picture-perfect smile to match your wonderful vacation.
Since you have plenty of time before your vacation starts, you can use it to tend to your oral health before the fun begins. A visit to your dentist can make your summer even more enjoyable and bright!
About the Author
Dr. Raj Vekariya and his team at Center One Dental are eager to keep your smile healthy and beautiful for every season of the year. He earned his Doctor of Dental Surgery from New York University's College of Dentistry and completed his Certificate program in Esthetic and Comprehensive Dentistry. With a goal of making his patients feel comfortable during their checkups, he provides high-quality dentistry to help keep your oral health in top condition. To schedule a consultation, contact him through their website or call (724) 607-8638.