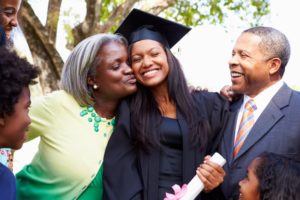 Graduating from high school or college is exciting! It means there are boundless possibilities ahead. As you are forging a new way into your future, why not consider bringing a new smile with you? Upgrading your teeth can not only build your confidence but can impact your career and social life. Read on to learn the benefits of a beautiful smile and possible cosmetic dental treatments to transform your pearly whites.
The Benefits of a Beautiful Smile
Studies have shown that the very first thing that most people notice when meeting someone for the first time is their smile. When your teeth are bright and healthy looking, you convey a sense of vibrancy and attractiveness. You also appear healthier and happier. Oftentimes, these traits are associated with people being more competent and approachable. This can be valuable when beginning a new career or going off to college.
What Cosmetic Dental Treatments Are Best for Graduates?
The goal of cosmetic dentistry is to give you the smile you've always wanted. Whether you want a brighter smile or more aligned teeth, there are many treatments available to upgrade your grin. These include:
Professional Teeth Whitening
A bright smile is always appealing, no matter what stage you are at in life. However, certain habits like drinking coffee, tea, or wine can cause teeth to become discolored and dull. Professional teeth whitening is a popular cosmetic procedure that can lighten your teeth up to eight shades. For your convenience, you can either do in-office treatment or a take-home kit.
Veneers
Veneers are ultra-thin shells of dental-grade porcelain that are bonded to the front surfaces of teeth to instantly transform their appearance. They can hide a variety of imperfections, including chips, cracks, stains, and gaps between teeth. Since veneers are custom-made to fit your teeth precisely, they look and feel just like your natural teeth.
Cosmetic Dental Bonding
You may just want to fix just a small problem with your smile for your new beginning. Cosmetic bonding is the perfect solution for minor dental aesthetic issues. Your dentist will apply a tooth-colored resin to the flawed tooth and sculpt it to perfection, quickly transforming your smile in as little as one hour!
Graduating brings many smiles…so you may as well have one you feel great about. By getting cosmetic dental treatment, your teeth will be picture-perfect for your special day as well as all the ones to come!
About the Author
Dr. Raj Vekariya and his team at Center One Dental keep the smiles of Canonsburg healthy and beautiful throughout every stage of life. He earned his Doctor of Dental Surgery from New York University's College of Dentistry and completed his Certificate program in Esthetic and Comprehensive Dentistry. One of his favorite topics is cosmetic dentistry, so he is eager to help you kickstart a new smile by offering various treatments such as teeth whitening, veneers, or dental bonding. To schedule a consultation, contact him through their website or call (724) 607-8638.