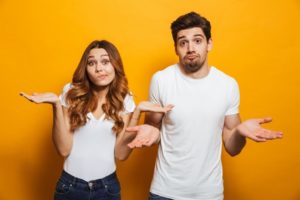 Have you ever brushed off a bad habit after assuming it was no big deal, and then later find out the negative consequences were more significant than you thought? That probably describes what some people have experienced regarding cheek biting. Classified as a body-focused repetitive behavior (BFRB), there are several varieties of cheek biting, as well as dangers. Read on as your dentist in Canonsburg sheds some light on this habit and how to stop doing it.
What Are the Different Types of Cheek Biting?
Believe it or not, there are five primary types:
Body-focused repetitive disorder (BRFD) – As the name indicates, this is obsessive cheek biting that a person can't seem to stop.
Habitual cheek biting – A semiconscious activity a person can replace with another less concerning behavior.
Cheek biting while asleep – It's unintentional, and, fortunately, a soft guard from a dentist can prevent direct contact of teeth to cheek.
Regular accidental cheek biting – When regular but not on purpose, it may be due to misalignment of your teeth or a jaw problem. Orthodontics might correct it.
Periodic accidental cheek biting – When accidental but only occasional, it's not a concern.
Dangers of Biting Your Cheeks
The main problem with repeatedly biting your cheek is an injury to mouth tissue that can cause sores and ulcers. A 2017 study suggested that cheek biting can't cause oral cancer, but if cancer is present from another cause, it could promote progression.
People who compulsively bite their cheeks may experience guilt, shame, or hopelessness. If they are worried about other people seeing, they may reduce social interaction. When wisdom teeth grow in, they can irritate and cut your cheeks, but this is viewed through the lens of periodic accidental cheek biting.
How Does Someone Stop Cheek Biting?
If you are dealing with regular, accidental cheek bites, talk to your dentist. They will probably have a simple solution that can help.
It's more complicated if you are a chronic cheek biter. You need to find out if it is habitual or compulsive. If it's habitual, some people have successfully quit by chewing sugarless gum as a replacement, taking deep breaths when the cheek chewing urge comes on, or identifying triggers that cause them to do it and substituting another activity as needed.
If it's compulsive, addressing your cheek chewing will be more complicated. Treatment should focus on behavioral and emotional components. Some recommended actions include:
Talk therapy
Mindfulness training for awareness
Meditation to reduce anxiety
Hypnosis
Removing triggers for cheek chewing
Seek healthy solutions to manage anxiety
Lower stress levels
If you just realized you bite your cheek, or if it's a longtime known habit, the first step is to figure out what type you are doing. When you know that, you can determine if you need to see a dentist or a psychologist, or if it's something you can handle on your own.
About the Author
Dr. Raj Vekariya graduated from dental school in India. After working as a dentist for three years, he moved to the U.S., attained his dental doctorate from New York University, and completed his Certificate program in Esthetic and Comprehensive Dentistry. If you bite your cheeks while asleep or it's of the regular accidental variety while awake, Dr. Vekariya may have some treatment solutions. For any oral health need, you can schedule an appointment on his website or call (724) 300-3700.