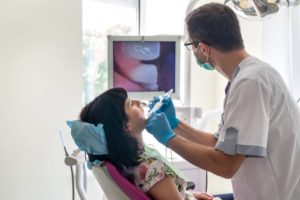 Oral cancer develops in the tissues of the mouth or throat, about 30,000 cases are diagnosed in the United States each year with more than 7,000 being fatal. It most commonly affects people over 40 years of age.
Usually, oral cancer is discovered after it has spread to the lymph nodes of the neck. Early detection via oral cancer screening is the key to survival. Keep reading to learn about the stages of oral cancer and treatment techniques from your dentist in Canonsburg.
What Distinguishes the Different Stages of Oral Cancer?
There are six types of oral cancer, including cancers of the lips, tongue, inner lining of the cheek, gums, floor of the mouth, as well as the hard and soft palate. Oral cancer also has four stages:
Stage 0: Also called carcinoma in situ, this is the very beginning of the scale when abnormal, potentially cancerous cells have been located in the mouth.
Stage 1: A tumor has developed. The tumor is two centimeters or smaller, and the cancer has yet to spread to the lymph nodes.
Stage 2: The tumor measures 2-4 centimeters, and the cancer cells have not spread to the lymph nodes yet.
Stage 3: Either the tumor is larger than four centimeters and hasn't spread to the lymph nodes yet, or it's any size and has spread to one lymph node.
Stage 4: The tumor can be any size and cancer cells have begun to spread to nearby tissue such as the jaw or other parts of the oral cavity. It may also have spread to a lymph node larger than three centimeters or other parts of the body.
What Options Do I Have to Treat Oral Cancer?
While there are no proven ways to prevent oral cancer, you can reduce your risk of developing it by stopping the use of tobacco products, drinking alcohol in moderation, avoiding excessive sun exposure on the lips, and visiting your dentist regularly. Treatment for oral cancer will vary depending on the stage and location, but there are multiple ways it can be treated:
Nutrition: Many cancer treatments make it difficult to eat, which leads to poor appetite and weight loss. Speak with your doctor or dentist about your diet and consider getting advice from a nutritionist. They can help you find foods that are gentle to your mouth and throat and will provide your body with the vitamins, minerals, and calories it needs to heal properly.
Radiation therapy: For this form of treatment, a doctor will aim radiation beams at the tumor 1-2 times daily. This is repeated five days a week for 2-8 weeks.
Targeted therapy: This can be effective in both early and advanced stages of oral cancer and uses drugs that bind to specific proteins on cancer cells to interfere with their growth.
Chemotherapy: This treatment administers drugs that kill cancer cells either orally or through an IV line. Most people get chemo on an outpatient basis, but some cases may require hospitalization.
Surgery: Treatment for the preliminary stages of oral cancer usually involves surgery to remove cancerous lymph nodes and tumors.
One more aspect of oral cancer treatment is to keep your mouth healthy throughout the process. Keep your mouth moist and your teeth and gums clean through your daily oral hygiene regimen, plus be sure to schedule your biannual checkups and cleanings with your dentist in Canonsburg. The sooner oral cancer is discovered, the better chance you have of putting it in the rearview mirror to enjoy a long, healthy life.
About the Author
Dr. Raj Vekariya grew up in India and discovered that he enjoyed going to the dentist early in life. Not only did he love getting prizes for practicing good oral care, but he also began to take advantage of those opportunities to learn about dentistry. The dentist's office was right next door to his father's pharmacy, and eventually, he was visiting without an appointment. Once he graduated high school, Dr. Vekariya was fully invested in this growing interest, and he almost immediately enrolled in dental school. Oral cancer screenings are one aspect of preventive dentistry at his dental practice in Canonsburg. He recommends a dedicated oral cancer screening at least once per year. To schedule a screening or a dental cleaning and exam, visit his website or call (724) 300-3700.