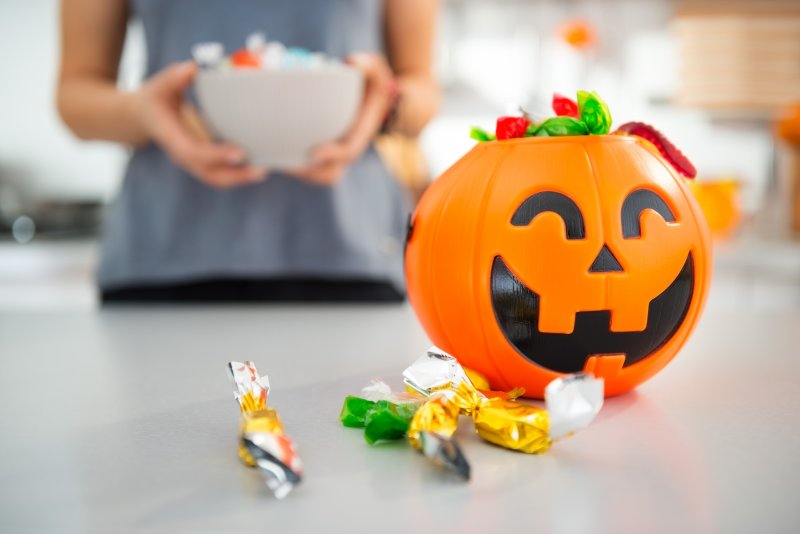 The air is crisper, the leaves are changing colors, and October is right around the corner. Do you know what that means? It's almost Halloween! The candy-filled holiday is an exciting time of the year that many families look forward to. Children and adults have an opportunity to dress up in their favorite costumes and go trick-or-treating around the neighborhood, only to return home with bags of free candy. But if you're not careful, the age-old tradition can leave a lasting mark on everyone's smile. Read on for a few Halloween oral health tips to help you avoid a scary grin this season.
Choose Your Treats Wisely
It's no secret that candy is bad for your teeth. Frequent consumption of sugar can increase your risk of dental problems, such as cavities and tooth decay. However, it may surprise you to learn that some candies are much more damaging than others.
Let's take a look at some of the worst Halloween treats:
Chewy, Sticky, and Gummy Candies – Avoid these as much as possible. Since they're sticky, it's difficult to remove leftovers from your teeth. And the longer sugar stays on your teeth, the more time cavity-causing bacteria have to work.
Hard Candy – Not only do they stay in your mouth for a long time, but biting hard candy can easily result in broken or cracked teeth.
Sour Candy – It's very acidic and can weaken or damage your enamel, making your teeth more vulnerable to cavities and decay.
Instead, only eat the candies that are least damaging (i.e., chocolate and sugar-free options).
Eat Candy at Mealtimes
Because saliva production increases during meals, it's a good idea to eat candy during or shortly after mealtime. That way, the saliva will help neutralize harmful acids produced by bacteria in your mouth and wash away food particles.
Chew Sugar-Free Gum
Chewing on sugar-free gum about 20 minutes after a meal or snack is a great way to prevent tooth decay. It increases saliva flow which helps rinse food particles and neutralize harmful acid in your mouth produced by bacteria. Plus, it'll freshen your breath!
Have a Plan to Limit Candy
Although your family may want to keep all that candy around, it's a good idea to have a plan in place to reduce the stash. You can allow everyone to keep a select number of treats and donate the rest to an organization. This way, no one will get into the habit of eating their treats every day and continuously exposing their teeth to sugar.
Practice Good Oral Hygiene
On Halloween night, the last thing anyone may want to do is brush and floss their teeth. However, those practices are crucial for preserving a beautiful, healthy smile. Before anyone goes to bed, make sure they take all steps necessary to keep their mouth clean!
Is your family ready for Halloween? By following the oral health tips outlined above, you can help everyone avoid a scary smile this season!
About the Practice
At Corner One Dental, we'll do everything possible to make every visit is as comfortable, satisfying, and fulfilling as possible. Our team is passionate about helping patients of all ages achieve and maintain their absolute best smiles. For more Halloween oral health tips, visit our website or call (724) 300-3700.