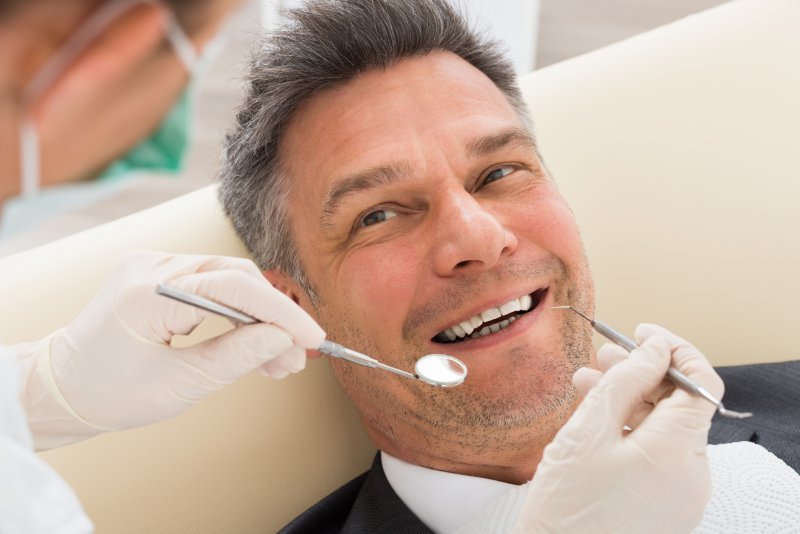 The average person is recommended to come to the dentist every six months for regular cleanings and checkups. However, this appointment is about more than just having your teeth flossed and polished. There are all sorts of things that your dentist looks for when you're in the dental chair. Continue reading to learn what your dentist is looking at, and why it is so important for your oral health and the health of your entire body.
Screening for Oral Cancer
Every time you come to the dental office for regular cleanings and checkups, your dentist will thoroughly check your smile for any signs of oral cancer. They will also look for any abnormalities within the mouth or symptoms that could lead to oral cancer developing in the future. When this is caught early on, it can often times be easily treated, but when neglected, it can quickly become life threatening.
Examining the Tongue
The size and surface of your tongue is able to suggest a lot about the health of your whole body. To ensure that everything is okay, your dentist will check the texture of your tongue as well as the size for any abnormalities that need to be addressed.
Inspecting the Salivary Glands
Your dentist will check your salivary glands to ensure that they are producing enough saliva. This is because saliva coats your mouth and helps to wash away harmful bacteria. If you don't have enough saliva, your teeth and mouth are more prone to cavities, bacteria, infection, and halitosis.
Looking at the Tonsils
Dentists are always very careful to take a close look at the tonsils for any signs of infection or swelling. Just like the tongue, tonsils can tell a lot about health concerns that are present throughout the rest of your body.
Checking the Temporomandibular Joint
This is the joint that connects the jawbone and jaw together. It's what allows you to both open and close your mouth so that you can chew, smile, and speak. Your dentist will ensure that this joint and your bite are functioning together in the correct way.
Teaching Oral Hygiene Practices
There is an educational portion of dental appointments that many patients don't take advantage of. Your dental hygienist will take the time to teach you about proper oral hygiene habits, brushing technique, flossing, and the importance of each step. This way, you can use them at home to keep your smile in good health going forward.
Remember that your appointment is about more than just your smile. It's about keeping your whole body strong and healthy!
About the Author
After obtaining his dental education and working as an associate dentist in India for three years, Dr. Raj Vekariya moved to the United States and attended New York University's College of Dentistry where he earned his Doctor of Dental Surgery degree and completed his Certificate program in Esthetic and Comprehensive Dentistry. To learn more about routine dental checkups or to schedule an appointment, visit his website or call (724) 300-3700.