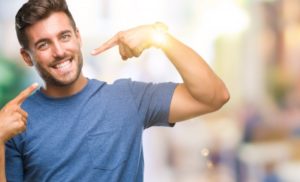 In this day and age, you no longer have to live with teeth that look anything less than perfect, all thanks to cosmetic dentistry. With a vast array of services available, your cosmetic dentist can give you a confident, attractive smile for years to come – but just how many years? It's a common question that many patients have before they commit to any treatment. It's difficult to provide an exact answer to the question, "How long does cosmetic dentistry last?" However, keep reading as a dentist provides an estimate of how long you can expect the results of some popular cosmetic dental treatments to last.
How Long Does Cosmetic Dental Work Last?
The lifespan of your results will of course depend on the specific services you've chosen to improve your smile. After all, some cosmetic treatments are designed to last longer than others. That being said, here's what you can expect from some of the most popular cosmetic dental services:
Veneers
Veneers are thin porcelain shells that are bonded to the front of teeth, acting as little masks to cover all aesthetic imperfections. Most patients with veneers enjoy them for about 10 years, but your veneers could last for up to 20 years if you take proper care of them. This involves practicing good oral hygiene and avoiding bad habits like teeth grinding and biting down on hard objects.
Direct Bonding
With direct bonding, your dentist can conceal multiple small flaws in one fell swoop using a tooth-colored resin. Bonding is less invasive and expensive than veneers, but the results typically only last between five and ten years.
Teeth Whitening
Over-the-counter whiteners don't tend to make much of a difference, but professional teeth whitening from a dentist is much more dramatic and lasting. Depending on your diet and dental habits, your newly brightened smile could last anywhere from six months to three years.
Invisalign
As an alternative to metal braces, Invisalign is an increasingly popular way to straighten crooked teeth. Although the treatment takes an average of 18 months to complete, the results can often last for the rest of your life if you wear your retainer as directed afterward.
Tips for Keeping Your Smile Beautiful
Once you've finally achieved your dream smile, you'll naturally want it to stay that way! Here are some tips for making your cosmetic dental work last:
Brush your teeth twice a day.
Floss at least once a day.
Visit your dentist every six months for a routine checkup and cleaning.
Avoid smoking or using tobacco in any way.
Keep your consumption of sugary and acidic foods and beverages to a minimum.
Cosmetic dentistry can help you attain a smile you'll be proud to show off. While there's no definite answer to the question of how long your results will last, taking good care of your teeth will ensure you enjoy your new and improved smile for as long as possible!
About the Author
At Center One Dental, Dr. Raj Vekariya provides family and cosmetic dental services to patients in the Canonsburg, PA community. In fact, one of his favorite areas of dentistry is cosmetics. He offers a wide variety of cosmetic dental services, including all of the ones mentioned in this post. To find out the best way to transform your smile, contact Dr. Raj at 724-300-3700.