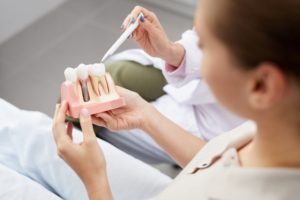 Dental implants are no small investment, but they have the power to totally change your life when it comes to increased self-confidence with a transformed smile and restored oral functionality. Every year millions of people benefit from them, and if you're considering getting dental implants, you've got a lot to look forward to. If you've never had them before, you probably have plenty of questions. Keep reading to learn everything you need to know about the process and the ways they can enhance your smile.
What Are Dental Implants and How Can they Benefit You?
Simply put, dental implants are a permanent solution to tooth loss that not only restore your ability to chew and speak, but also help promote new bone growth as they fuse to your jawbone. Here are a few of the great things about them:
Permanence
Unlike dentures, dental implants aren't going anywhere. You won't have to deal with clicking, slipping, or worrying about losing them.
Longevity
As long as you follow your dentist's instructions and take good care of your dental implants, they can last you for decades! In fact, you might even forget they're prosthetic after a while.
Jawbone Growth
When one or more teeth go missing, it can negatively affect the bone mass of your jaw. Over time, this can also change the look and shape of your face, making you look less youthful. Dental implants are inserted into the jawbone, and once they fuse with it, they actually help to promote new bone growth.
High Success Rate
Did you know that dental implant treatment has a 95% success rate? That's huge, and it can give you the confidence to go through with the procedure, knowing it will all be worth it.
Restored Confidence and Oral Functionality
This is probably one of the best benefits that dental implants can bring. Having a transformed smile that you can be proud to show off can improve your overall quality of life. There are probably plenty of foods that you miss eating and haven't been able to enjoy due to tooth loss. With dental implants, you can finally partake in the meals you've been longing for.
Now that you know how dental implants can benefit you, keep reading to learn a bit about what the process will look like.
What Should You Expect from the Dental Implant Procedure?
Any dental procedure that you've never had done before can seem daunting at first, but once you're "in the know," it makes the process feel much easier. Here's a brief rundown of what it will look like:
Your dentist will have an initial consultation to learn what your goals are for your smile and to investigate your situation. They will then schedule the actual procedure.
During the initial procedure, your dentist will insert a titanium post into the place where the natural tooth is missing. This will act as the "root" holding the prosthetic tooth in place.
Once the implant is inserted, your dentist will send you home to heal. The healing process can take up to six months, but your dentist will be able to provide you with a more specific timeline depending on your unique situation.
After you've healed and the implant has fully fused with your jawbone, your dentist will schedule another appointment for you to come in so that they can attach the final piece, which is the prosthetic tooth that sits on top of the implant.
Dental implants truly are the most natural and effective tooth replacement option. If you're in need of a smile transformation due to tooth loss, don't wait to talk to your dentist about dental implants. You won't regret it!
About the Author
If you've been suffering from tooth loss, you need a dentist who is compassionate, highly trained, and will stop at nothing to restore your smile. Look no further than Dr. Raj Vekariya at Center One Dental. His priority is to ensure the comfort of each of his patients, and he loves building long-lasting relationships with them. Are you ready to talk about dental implants? You can request a consultation online or give us a call at (724) 300-3700.