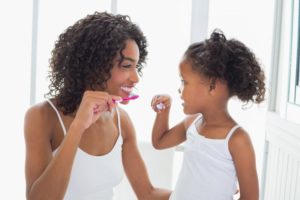 If you're like most people, you brush your teeth twice a day to keep your smile healthy and bright. This is a great habit to have. After all, your toothbrush is your mouth's first line of defense against bacteria and plaque that can build up and lead to cavities. As important as daily brushing is, though, you may be doing your smile more harm than good if you don't switch out your toothbrush every now and then. Here's how often you should change your toothbrush to prevent the spread of bacteria.
How Often Should You Change Your Toothbrush?
Most dentists suggest switching out your old toothbrush for a new one every three or four months at most. At first, this may sound like a marketing tactic by the toothbrush companies to get you to buy their products more often. However, it's actually a recommendation from the American Dental Association.
The Importance of a New Toothbrush
Three to four months may not sound like a very long time, but there can be consequences of not changing your toothbrush often enough, such as:
Bacterial buildup – Over time, bacteria can accumulate on the bristles of your toothbrush. The number of bacteria on your brush will only grow the longer you use it. At some point, you'll be depositing all of that bacteria onto your teeth, tongue, and gums every time you brush.
Worn-out bristles. Using the same toothbrush for too long will eventually wear down its bristles. The bristles become much more abrasive once their tips are worn away, which can erode your tooth enamel and leave you more prone to sensitivity.
Illness. If you have a cold or the flu, the germs that infected you may remain on your toothbrush and spread to other members of your household. It's best to just replace your brush after you recover from a sickness.
Expert Brushing Tips from Your Dentist
To make sure your smile stays safe and healthy, here are some tips from your dentist for brushing your teeth:
Don't share a toothbrush holder with anyone else.
After each use, keep your toothbrush in a dry, open area.
Make sure your toothbrush stays at least six feet away from the toilet – when flushing, germs can travel much farther than you may think!
If you're traveling, ensure your brush is fully dry before placing it in a storage case.
Buy toothbrushes in bulk so that you and your loved ones are ready to make the switch when the time comes.
Now that you know how often you should change your toothbrush, be sure to keep these tips in mind to maintain a happy and healthy smile!
About the Author
After working as an associate dentist in India for three years, Dr. Raj Vekariya moved to the United States and achieved his Doctor of Dental Surgery degree from New York University's College of Dentistry. To learn more about keeping your smile healthy between dental appointments, visit his website or call Center One Dental at (724) 300-3700.