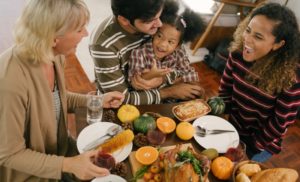 You've probably spent weeks thinking about all of the yummy dishes you're going to be eating at Thanksgiving dinner. Many classic Thanksgiving foods are certainly delicious, but several of them can discolor your teeth if you're not careful. Keep reading to learn five classic Thanksgiving items that can stain your teeth, as well as what you can do to keep your smile shining brightly this holiday season.
Coffee
Most people are already aware of coffee's annoying ability to stain teeth. However, if you're the one hosting the family get-together this year, then you might find yourself sipping more coffee than you do normally to help you power through the day. To prevent dental discoloration, try to drink all of your coffee in one sitting and brush your teeth once you're finished. If you can't brush, then rinse your mouth with water. This will prevent stains from setting in on your tooth enamel.
Cranberry Sauce
This winter holiday staple is notorious for staining teeth. Not to mention, the acidity in cranberries can wear down your enamel, leaving them weaker and more susceptible to cavities in the long run. If you simply can't go without cranberry sauce this Thanksgiving, then at least swish some water around in your mouth afterward.
Wine
Everyone already knows about red wine's reputation for leaving behind stains on your teeth. But did you know that white wine can also darken your pearly whites? This is because, like cranberries, white wine contains acid that erodes your enamel. Eventually, the white enamel thins out, exposing more of the yellowish layer of dentin underneath it. Again, try to brush your teeth or rinse your mouth out after drinking wine.
Balsamic Vinegar
Due to its small calorie count and powerful flavor, balsamic vinegar is a popular choice for spicing up salads. Since it's dark in color and acidic, too much of it can result in tooth stains. To keep your smile bright, you should probably skip on this dressing altogether, or wash it down with water at the very least.
Pie
While pumpkin pie is actually relatively healthy for your teeth, berry pies can seriously stain your teeth and damage your enamel. Give your teeth a quick brushing and flossing after dessert to clear away all of that sugar and acid.
You don't necessarily need to completely avoid these Thanksgiving foods, but keep in mind that moderation is key. Moderation, coupled with diligent oral hygiene, can keep your smile shining brightly throughout the holiday season!
About the Author
After practicing dentistry in India for three years, Dr. Raj Vekariya moved to the United States and obtained his Doctor of Dental Surgery degree from New York University. At Center One Dental in Canonsburg, PA, he strives to help his patients feel comfortable during all of their visits. To learn more about how to keep your smile healthy during the holiday season, visit Dr. Raj's website or call (724) 300-3700.