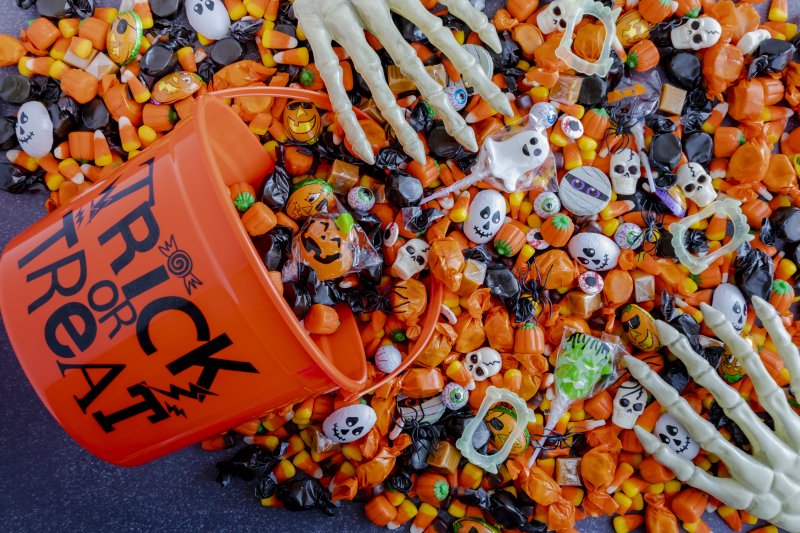 Now that the spooky season is here, you are probably preparing your costume and getting ready for the heaps of candy that will somehow find their way into your home. Even though there is nothing wrong with you and your kids indulging in a few Halloween sweets, it's important to be aware of the effects it can have on your smile. No one in your family wants to spend extra time in the dental chair having cavities filled. Here are some Halloween candy tips that can help you navigate this exciting holiday.
Maintain a Good Oral Hygiene Routine
Halloween certainly isn't the time to be slacking on your oral hygiene routine. Remember to brush at least twice a day with a soft-bristled toothbrush for two minutes each time in order to remove plaque from your teeth. Also take time to floss daily to remove the food debris and plaque that your toothbrush cannot reach.
Drink Plenty of Water
Water is necessary for pretty much every part of your body to function properly, including your smile. Drinking fluoridated water is a great way to protect against tooth decay. It also helps to wash away lingering food particles and neutralize harmful acids in the mouth.
Stay Away from Sticky Sweets
Stickier candies cling onto your teeth and are more difficult to wash away. This increases your risk for tooth decay more than candies like chocolate that melt away in a shorter period of time. These are definitely ones to avoid if you can resist them.
Time Your Candy Consumption
When you want some Halloween candy, the best time to eat it is during or directly after a meal. This is because your saliva production increases during this time. Saliva cancels out acids produced by bacteria in the mouth and rinses away food particles.
Come Up with a Plan
As much as you want to keep your candy around, it may be best to keep your stash limited so you don't overindulge. Have your family members pick out their favorites and decide what to you with the rest. You could donate it or simply store it away for a later time.
Have Some Gum Instead
A great alternative to candy is sugar-free gum. It tastes sweet and delicious, plus it has benefits for your teeth. Chewing it for 20 minutes after any given meal helps to reduce tooth decay by increasing saliva flow. This washes away food and neutralized harmful acid produced by bacteria.
This Halloween, make sure your taking steps to prevent oral health issues like tooth decay. By following these tips, you'll be well on your way to a healthy smile.
About the Author
After attending dental school in India and working as an associate dentist for three years, Dr. Raj Vekariya moved to the United States and earned his Doctor of Dental Surgery from New York University's College of Dentistry. For more information on maintaining good oral health or to schedule an appointment at his office in Canonsburg, visit his website or call (724) 300-3700.