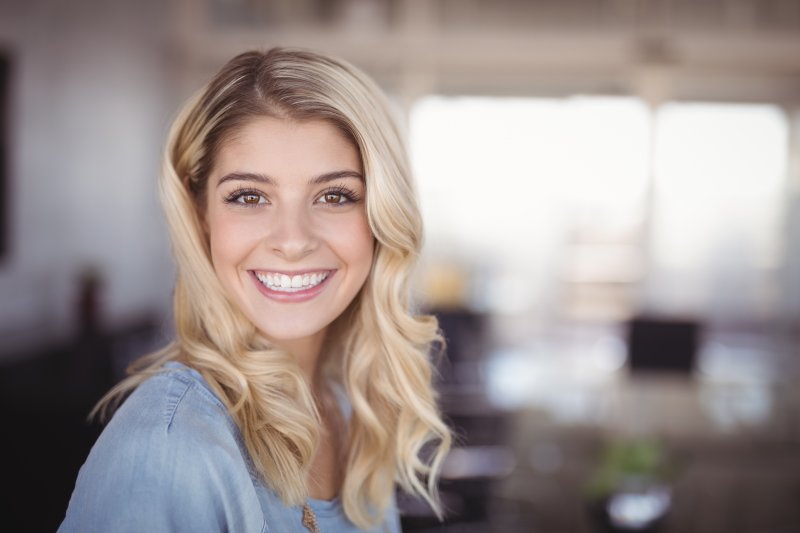 Did you know that a whopping 33% of Americans are unhappy with their smile? Plus, 36% believe a better smile would improve their social life and 22% think it would enhance their romantic endeavors. If these statistics sound all too familiar, then you may be considering a smile makeover! After all, innovations in technology and dentistry allow patients today to whiten, straighten, and otherwise perfect their smile in record time. But did you know a beautiful set of teeth can do more than just boost your confidence? Read on for four additional benefits!
#1. Boost Your First Impression
You know what they say, "You only have one chance to make a good first impression." A positive demeanor and fresh outfit can help you put your best foot forward, but according to a study from the Academy of General Dentistry, the first thing someone notices about you is your smile. Plus, subsequent findings have shown that people with beautiful smiles are associated with positive attributes, like successful and trustworthy!
#2. Take 5 to 10 Years Off Your Appearance
From serums to cleanses, there is no shortage of anti-aging products on the market today. However, one of the most effective ways to turn back the clock is by removing stubborn stains and unsightly discoloration. In fact, a recent study conducted by Oral B found that models with whiter teeth were perceived to be five to 10 years younger!
#3. Enhance Your Professional Success
When you are thinking of applying for a new job or internal promotion, updating your resume and references may be the first things that come to mind. But what if the key to your success was your smile? After all, a recent study found that 58% of applicants who underwent a teeth whitening treatment before the interview received a job offer (and at a higher salary!).
#4. Better Overall Oral Health
Smile makeovers are often viewed as a means to fix aesthetic concerns alone. However, cosmetic dentistry can also improve your oral health! Since crooked teeth leave crevices for bacteria and plaque to hide, a teeth-straightening treatment can help enhance your oral hygiene routine and reduce the chance of tooth decay and cavities. Plus, treatments like dental bonding can correct minor stains and chips before they become large dental concerns.
Are crooked, stained, or otherwise imperfect teeth holding you back? Then it is time to talk to a cosmetic dentist! That way, you can boost your confidence, improve your personal and professional success, and enhance your oral health.
About the Author
After earning his Doctor of Dental Surgery from New York University's College of Dentistry, Dr. Raj Vekariya completed his Certificate program in Esthetic and Comprehensive Dentistry. Nearly a decade later, cosmetic dentistry is still one of his favorite topics! Today, he is proud to offer everything from porcelain veneers and dental bonding to teeth whitening treatments and complete smile makeovers at Center One Dental. If you are interested in upgrading your smile, visit his website or give him a call at 724-300-3700.