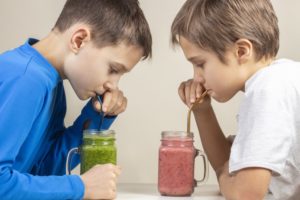 Choosing different grocery items for your kids' diets can be difficult, especially when there are so many things for you to choose from. It's important to get nutritional items, but they need to taste good as well. On top of that, certain foods that are often considered as healthy can actually cause a lot of damage to your kids' teeth. Your children's dentist shares what they are and why they can be so harmful for young smiles.
Fruit Smoothies
This is an excellent way for your kids to get their daily intake of fruit as well as the benefits of Greek yogurt. However, many different types of smoothies are packed with all sorts of sugar and calories. If you are making smoothies yourself, try to avoid using fruits that contain a lot of sugar like figs, grapes, mangoes, and cherries. Instead, try bananas, avocados, apples, or watermelon.
Trail Mix
If you get the right kind, trail mix can be a healthy alternative to processed snacks like chips and crackers. However, often times these mixes contain ingredients like chocolate, dried fruit, and candy. Instead, look for one that doesn't have added sugary items.
Dried Fruit
If you're worried about oral health, this is definitely one for your kids to avoid. In fact, dried fruits contain much higher levels of sugar than natural fruit. Definitely choose fresh fruit instead to decrease the probability of your kids experiencing tooth decay.
Granola
This is often associated with a healthy breakfast, but many people don't realize how much sugar is contained in granola products. Be sure to check the nutritional label so you can get products that contain more fiber and less sugar.
Sports Drinks
As delicious and refreshing as it can be after a sports practice, brightly colored sports drinks are one of the worst things that your child can consume. They contain high levels of both acid and sugar which softens enamel and creates a perfect breeding ground for bacteria. Water containing fluoride is always the best possible thing that can be used to rehydrate after staying active.
Tea
There are so many different types of tea and many have great benefits for different parts of your body. However, it can take a toll on teeth, especially because many of them are acidic and soften tooth enamel. They also tend to cause teeth staining over time.
Even though these foods seem to be healthy, they can be terribly destructive to your smile and the smile of your kids. Remember to limit the consumption of these products so your children's teeth can be bright and healthy for years to come.
About the Author
Dr. Raj Vekariya is a children's dentist serving patients in the Canonsburg, PA area. He graduated from dental school in India and served as an associate dentist for three years. When he moved to the United States, he earned his Doctor of Dental Surgery degree from New York University's College of Dentistry. In addition to cosmetic and general dentistry, Dr. Vekariya treats children to ensure that they are growing up with happy, healthy smiles. For more information or to schedule an appointment, visit his website or call (724) 300-3700.