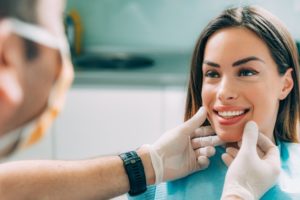 Nothing screams confidence like a big, happy, healthy-looking smile. People who are embarrassed or self-conscious of their smiles tend to have much less confidence and increased levels of stress and anxiety. Showing off your healthy teeth affects the way others see you and is even contagious. If you don't feel like your smile is sufficient, the good news is that you have many different options. Continue reading to learn about how seeing a cosmetic dentist can improve your confidence as well as some different types of procedures that are available.
How Can Cosmetic Surgery Increase Your Confidence?
Reduces Signs of Aging
As you get older, your teeth start to show it. Your enamel will gradually become thinner and expose the natural yellow color underneath. By getting cosmetic dental procedures, you can reverse this type of discoloration that makes many people feel self-conscious of their smile.
Keeps Your Teeth Healthier
When a smile is unhealthy, it certainly shows. In fact, you can tell a lot about a person by their mouth. Oral health often shows the overall health of a person as well. By taking care of your teeth, you are taking care of the rest of your body.
Increases Happiness
Smiling is often a sign that you are happy, but did you know that you can use your smile to trick your brain into happiness? A smile causes a chemical reaction in the brain and can actually make you feel happier. People around you will begin to feel the effects of your smile as well. It's contagious after all!
What Different Types of Cosmetic Procedures Are There?
Porcelain Veneers
These thin ceramic coverings are customized and fitted to the front of the teeth to correct imperfections and create a better appearance. It is completed in just one procedure and can fix any of the following issues:
Stains
Chips
Cracks
Gaps
Undersized or misshapen teeth
Slightly rotated teeth
Direct Bonding
If you have a tiny flaw in your smile, it can now be easily fixed using a natural tooth-colored composite resin. This is a great, easy solution for minor stains, chips, and gaps. Bonding can be completed in as little as an hour and it is completely pain-free. Depending on the location and how well you care for it, the bonding can last upwards of a decade.
Teeth Whitening
If years of drinking coffee, tea, and red wine has finally caught up to you, there is a quick and easy solution. In-office teeth whitening can give you the results you want in just one appointment. Your smile can be made eight shades whiter in less than an hour. If you would prefer to complete a treatment at your house, your dentist can provide you with an at-home custom teeth whitening kit.
Invisalign
If you're looking to straighten your smile but don't want to commit to traditional metal braces, Invisalign could be the right option for you. They are removeable so you can eat all of your favorite foods and they are practically invisible!
Smile Makeover
Do you want to completely transform your smile? Your cosmetic dentist can put together a custom-made plan just for you. Just let him know the changes that you want, and he will do his magic to give you the smile you've always dreamed of.
If you're insecure about your teeth, you have options to help you get your confidence back! Talk to your cosmetic dentist about how you want to enhance your smile, and you will be eager to show it off in no time!
About the Author
Dr. Raj Vekariya is a cosmetic dentist serving patients at his practice in Canonsburg, PA. After obtaining his dental education in India, he worked as an associate dentist for three years. When he moved to the United States, he earned his Doctor of Dental Surgery Degree from New York University's College of Dentistry and completed his Certificate program in Esthetic and Comprehensive Dentistry. He provides a variety of different cosmetic dental procedures to help his patients achieve their dream smiles. For more information or to schedule a consultation, visit his website or call (724) 300-3700.