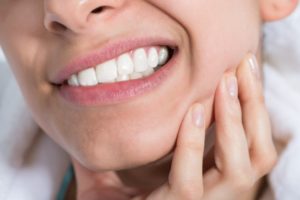 When that summer sun is beating down on you, or you just need a little pick-me-up in the afternoon, it can be so tempting to reach for a flavored sports or energy drink. After all, it's a better option than soda, right? Actually, a recent study published in General Dentistry reported that both sports and energy drinks can be just as harmful to the enamel of your teeth. Your dentist shares the science behind it and why you should opt for water instead.
Are Sports and Energy Drinks a Better Alternative to Soda?
For decades, dentists have warned people of the dangers of sugary drinks, like soda. However, few people realize that the sports and energy drinks they consume have nearly the same amount of sugar. In fact, a 20-ounce serving can contain up to 36 grams (roughly 9 teaspoons)! Although that is slightly less than your average soda, your teeth are still at risk for tooth decay, cavities, and stains. Therefore, sports and energy drinks have the ability to cause just as much damage as a can of soda.
Why Do Dentists Recommend Staying Away From Sports and Energy Drinks?
In addition to the high level of sugar found in each of these beverages, the acidic nature of sports and energy drinks make them particularly dangerous for your teeth. The correlation between the acidity of these drinks and weakened tooth structure was discovered when researchers investigated how much enamel was taken off each tooth after being exposed to the different beverages. The results were particularly disturbing considering the American Beverage Association does not require companies to place the amount of citric acid they contain on the label. Therefore, dentists have taken a stance against the regular consumption of sports and energy drinks to protect their patients' teeth.
Should I Cut Out Sports and Energy Drinks Entirely?
Although sticking to water is the preferable option for both your overall health and your teeth, it is okay to enjoy sports and energy drinks on special occasions. In these cases, make sure to:
Brush your teeth immediately after to prevent the residue from sticking to your teeth.
Floss as soon as possible to dislodge any sugary particles from those hard to reach areas.
Rinse thoroughly with water if the above two options are not available.
The next time you feel the temptation to reach for a sports or energy drink, opt for a glass of water instead. It will provide you the refreshment that you need without compromising the enamel of your teeth!
About Center One Dental
Backed by a passion for providing quality care, Dr. Vekariya and the team at Center One Dental have created a one-of-a-kind experience tailored to the people of Canonsburg, PA. At each appointment, they bend over backward to deliver exemplary service that is only rivaled by their 10+ years of experience. If you would like additional information on preventive care, visit their website or give them a call at 724-300-3700.