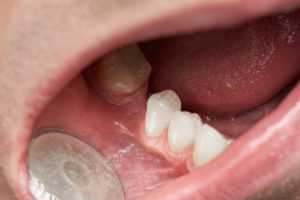 Losing a tooth in childhood may be an exciting sign of getting older, but it's not something that's celebrated later in life. In fact, it can be quite an alarming and overwhelming experience. If you've lost a back tooth, you may be asking yourself "Do I really need to replace it if I can't even see it?" While that may be an easy option now, avoiding dental implants or other tooth restorations can cost you a lot of time and trouble in the long run. Read on as your Canonsburg implant dentist explains why it's important to replace a missing tooth in your beautiful smile, even if you can't see it.
Chewing Can Become More Difficult
Back molars play a large role in chewing food effectively. Without them, you may find it more difficult or nearly impossible to enjoy your favorite foods. What's more, back teeth support a proper bite and ease some of the pressure on front teeth created by chewing. Over time, eating with a missing back tooth will cause excessive wear and erosion on the remaining teeth, which could lead to them chipping or cracking.
Your Remaining Teeth Will Shift and Change
Teeth help keep each other in place. When one goes missing, the nearby teeth will usually begin to shift, tip, or migrate into the open space. This effect will cascade to the rest of your teeth, which can cause crooked teeth and a misaligned bite. In some cases, the neighboring teeth will erupt into the empty space or lose their grip in your jawbone.
Oral & Overall Health Risks Increase
A gap in your smile is difficult to keep clean, especially if it's in the back of your mouth. Plaque, bacteria, and food particles will begin to accumulate where your tooth once was. This buildup leads to an unhealthy mouth and drastically increases your risk of tooth decay and gum disease. If you develop a serious oral infection, you're more likely to experience systemic health conditions like memory loss, respiratory issues, and heart disease.
Your Jaw Can Become Stiff and Painful
A missing back molar significantly influences your bite alignment. Many people with missing teeth naturally begin to chew more on the other side of their mouth to compensate for the loss in bite power. This extra pressure on the temporomandibular joints will invariably lead to jaw stiffness and pain. Eventually you may develop TMJ disorder, which could require therapy, medications, or surgery to correct.
Your Facial Structure Can Change
Even if you can't see your missing tooth, its absence can impact your appearance. Teeth stimulate blood flow in the jawbone, which keeps it strong and healthy. As soon as a tooth goes missing, the jawbone begins to deteriorate and lose its mass in a process called resorption. As a result, the facial bones that were supported by the jawbone may begin to shift, which can give your facial features a sunken, aged look.
Whether it's a front tooth, back tooth, or somewhere in the middle, one little missing tooth can have a big impact on your quality of life. Instead, choose a tooth replacement option like dental implants to avoid the consequences of a missing tooth and regain your complete, functional, and beautiful smile!
About the Author
If you're missing one or more teeth, Dr. Raj Vekariya of Center One Dental has the training and experience to rebuild your confidence as well as your smile. Instead of referring you to another dentist, he is able to perform every step of the dental implant process in his Canonsburg, PA office. With the latest technology and sedation dentistry, he can personally ensure that you are as comfortable and safe as possible throughout your treatment. If you'd like to learn more about dental implants, feel free to contact him via his website or at (724) 300-3700.