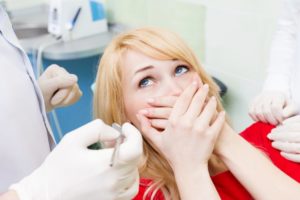 Dental emergencies are typically sudden, alarming, and somewhat overwhelming. Knowing what to do and where to go in these scary situations can sometimes make all the difference when it comes to saving your smile. In order to quickly get the urgent care you need, you should choose the right emergency dentist for you before you need them. Here are five important factors you should be on the lookout for when choosing your Canonsburg emergency dentist.
1.) Help When You Need It
Dental emergencies often require treatment right away, but rarely happen at a convenient time. Look for a dentist who always does their best to see a patient the same day as their emergency. Additionally, it may be a good idea to choose a practice with late and weekend hours of operation so you can always get dental care when you need it.
2.) A Variety of Treatments
Try as we might, there are numerous things that can go wrong with our smile. Your emergency dentist should provide many different types of treatments and procedures that can help get your oral health back on track. For example, do they offer root canals and tooth extractions? Do they have periodontal therapy options? Are cosmetic treatments available as well?
3.) Sedation Dentistry
It's normal to feel anxious, scared, and worried if you're seeking urgent dental care. A dentist who is experienced in sedation dentistry can help you feel calm and relaxed while they provide the treatment you need. Knowing this option is available may also help you feel less reluctant to seek help when you need it.
4.) Highly Experienced & Trained
You don't want to put the fate of your smile in just anyone's hands. An unqualified dentist may make your situation worse or make you afraid to get dental care in the future. In an emergency situation, you need a dentist who has years of experience and training from an accredited dental school.
5.) Routine Procedures
The perfect emergency dentist will also be your regular dentist. You shouldn't need to go to two different dentists to take care of your smile! Look for a dentist who provides excellent emergency and general dentistry. That way, should you find yourself in a dental emergency, you can visit a dentist you already know and trust.
When you're in the middle of a scary situation that involves your teeth, you may be willing to accept help from anyone. Choose your emergency dentist now, before you need them, to ensure that you get the best care for your smile!
About the Author
If you or a loved one is experiencing a dental emergency in Canonsburg, PA or the surrounding communities, don't hesitate to contact Center One Dental. Dr. Raj Vekariya has years of experience, state-of-the-art technology, and a wide variety of treatment options to help you overcome any oral health issue you may face. Additionally, he offers late and weekend hours to make keeping your smile healthy as convenient as possible. To learn more about how he can help you or your family during a dental emergency, feel free to contact him via his website or at (724) 300-3700.