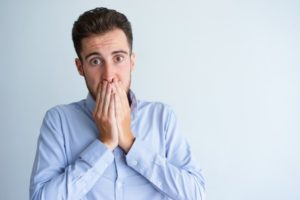 Do you know how to identify and react to a dental emergency? Most of us can recognize when a medical issue requires urgent, professional care, but are less certain when it comes to our smile. However, knowing when to call your emergency dentist can prevent further damage, save your tooth, and cost less time and money than visiting an emergency room. Here are some of the most common scary situations and how to handle them until you can see your dentist.
What Counts as a Dental Emergency?
If you're unsure if your dental problem counts as an emergency, call your dentist anyways. They can help you assess your situation, guide your next course of action, and answer your questions. Typically, you're experiencing a dental emergency if:
Your tooth has been knocked out.
Your tooth is visibly cracked.
Your dentures, dental crown, or other dental work has been broken.
Your soft tissues are swelling or bleeding.
Your tooth is extremely painful or sensitive.
How to Handle Common Dental Emergencies
These circumstances are alarming, but it's important to act quickly, calmly, and correctly to save your tooth or prevent further damage. Here are some general guidelines for handling the most common dental emergencies:
Painful cracked tooth: If your tooth is broken and painful, that indicates that the sensitive inner layers of your tooth may have been damaged. Gently rinse your mouth out with warm saltwater to keep the area clean and reduce swelling. Avoid eating until you see your dentist.
Soft tissue laceration: A sports accident or broken dental work could easily damage your soft tissues. If something has broken in your mouth, make sure to carefully remove any shards or pieces and then gently rinse with warm saltwater.
Knocked-out tooth: The dislodged tooth should only be held by the crown, never the roots, and rinsed off. Keep it in a container of milk or tucked between your gums and cheek. If it's treated within 30-60 minutes, it's more likely to be restored successfully.
Intense toothache or sensitivity: Unfortunately, many things can cause tooth discomfort. However, an intense toothache may be a warning sign of an abscessed or infected tooth. If left untreated, the infection could potentially spread throughout the body and become life-threatening. Your dentist may advise you to rinse with warm saltwater or take an anti-inflammatory pain reliever like Advil or Motrin.
Remember, you can call your dentist even if you're unsure if you're experiencing a dental emergency. Knowing how to act in one of these scary situations can give you piece of mind and may even save your smile one day!
About the Author
If you're experiencing a dental emergency, call or visit Center One Dental Family & Cosmetic Dentistry in Canonsburg, PA. Dr. Raj Vekariya will do everything in his power to see you within hours of your dental emergency, while providing you with expert first aid and pain management techniques over the phone in the meantime. With the help of state-of-the-art technology and years of experience, he will help you overcome your situation and get back to enjoying your happy, healthy smile. If you have questions, feel free to contact him via his website or at (724) 300-3700.