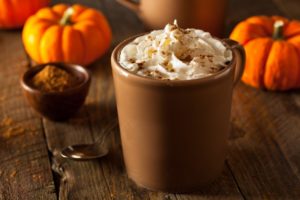 Now that it's Autumn, the weather is starting to get colder, and hot drinks like pumpkin spice lattes start to look like a great way to warm up. But as comforting as they can be, they might also be creating problems for your smile without you realizing it. It's important to take the time to ask, "Are hot drinks bad for my teeth? And what can I do about it?"
How Do Hot Drinks Affect My Teeth?
You might not notice the effects that hot drinks can have on your teeth right away, but over time you'll start to see various symptoms, such as:
Staining: Your enamel has all kinds of tiny gaps for liquid to become trapped in. A lot of dark-colored hot drinks such as coffee and tea can become trapped in these spaces and eventually cause discoloration and stains that can be difficult to remove with normal brushing.
Tooth Decay: Hot drinks tend to contain a lot of sugar, whether as an ingredient or an addition. (Notably, pumpkin spice lattes contain more than 12 teaspoons of sugar – more than twice the daily recommended amount.) Sugar sticks to the teeth and, if not removed, can lead to cavities.
Teeth Clenching: Caffeine is in a lot of hot drinks. (It's particularly prevalent in coffee, but pumpkin spice lattes and tea also tend to contain a fair amount.) If there's too much caffeine in your diet, you could end up involuntarily clenching and tightening your jaw, which can eventually cause cracked teeth and tooth sensitivity.
What Can I Do to Protect My Teeth from Hot Drinks?
It probably goes without saying that the best way to avoid the negative effects of hot drinks is to cut them out of your diet altogether. Of course, for many people, that's a large sacrifice to make. Luckily, there are plenty of ways you can enjoy your favorite beverages while keeping your pearly whites safe.
Always use a straw whenever you're drinking anything besides plain water. That way, the liquid will spend less time in contact with your teeth, meaning there's less of a chance for it to cause stains. Also, drinking water after you finish your hot drink will help wash away sugar and stain particles. Finally, it's important to pay attention to how often you're drinking pumpkin spice lattes and other beverages; controlling your intake is crucial for avoiding long-term negative effects.
If you think those pumpkin spice lattes are starting to show on your teeth, it may be a good idea to call your dentist for a checkup. They can make sure your ivories are still in good health. They can also give you more specific advice for enjoying your favorite hot drinks while still watching out for your smile.
About the Author
Dr. Raj Vekariya received his Doctor of Dental Surgery degree in 2011 and has finished a Certificate program in Esthetic and Comprehensive Dentistry; that means he's skilled in helping teeth look great in addition to staying healthy. If indulging in too many hot drinks has left your teeth stained or decayed, you can make an appointment at his practice in Canonsburg, Center One Dental, by visiting his website or calling (724) 300-3700.