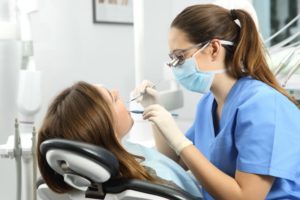 Many of us get anxious when it comes time for our biannual dental appointment. We try to stay in the chair for as little time as possible, and avoid asking our dentist questions that need to be answered. Did you know that this can be detrimental to not only your oral health, but your overall health as well? Read on as we talk about 7 questions that you shouldn't be afraid to ask your dentist or dental hygienist.
1. How Can I Improve My Oral Health?
Even if your dentist informs you that there are no issues with your teeth and gums, it never hurts to ask about getting them in better shape. Ask if there are any habits or products you could pick up to keep problems like cavities and gum disease at bay. When it comes to your oral health, you can never be too careful.
2. Have I Updated My Medications Recently?
It's easy to forget to tell all of our medical professionals about any changes to our medications at every visit. Your dentist needs to know what you're taking so any treatment they prescribe doesn't have any negative interactions with your medication. Before your appointment, make a list of everything you're taking. Then, ask to see if your chart is up to date.
3. Should I Tell My Primary Care Doctor About Anything?
Your oral health affects your overall health in a major way. There are several conditions your dentist can diagnose by looking in your mouth, such as pregnancy and diabetes. Additionally, poor oral health could lead to complications like heart disease and dementia, especially in older patients. If there is something wrong in your mouth, your family doctor needs to know.
4. Do I Have Any Bumps or Bleeding?
Bleeding gums can be a sign of gingivitis, the early form of gum disease. Bumps or sores in the mouth can be a symptom of oral cancer. In both cases, if the disease is caught early enough, it can usually be treated fairly easily.
5. Does My Breath Have a Strange Odor?
If your breath smells a little off, it could be a sign of a bacterial infection like decay or gum disease. Oddly sweet-smelling breath could be a symptom of high blood sugar that may mean you have diabetes. If you feel a persistently strange taste in your mouth, don't hesitate to ask your dentist about it.
6. Does My Sensitivity Mean Anything?
If your teeth and/or gums are sensitive, it could be a sign of a serious problem. It could be a symptom of cavities, gingivitis, thinning enamel, jaw clenching, or teeth grinding. Ask your dentist to let you know which of these problems it could be so he or she can come up with a treatment plan.
7. When Can I Schedule My Next Checkup?
You should book an appointment every six months, so you might as well do it at the end of your checkup when you're already in the office. By getting a professional cleaning twice a year, you can stay on top of your oral hygiene.
In addition to regular checkups, don't forget to floss and brush every day with fluoride toothpaste. If you experience any pain at all, don't be afraid to contact your dentist even if you don't have an appointment scheduled.
About the Author
At Center One Dental in Canonsburg, PA, Dr. Raj Vekariya strives to make every patient feel comfortable during their checkups. He wants to create an environment where patients don't feel afraid to ask him questions about their oral health. To book your next checkup with him, visit his website or call (724) 300-3700.