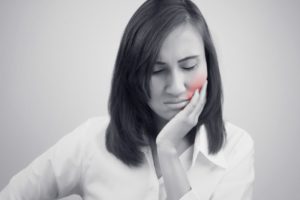 As you leave for work, you notice a tooth beginning to ache. Unsure of what could be the problem, you take some pain reliever and head out the door. Throughout the day, the nagging discomfort grows more severe, and you begin to wonder why. By the time you arrive home, all you want to do is remove it and be free from the pain. The reason for your toothache can be tied back to many different problems, some not so serious and others potentially dangerous to your oral health. If you're wondering what can cause a toothache, let a dentist explain and offer ways to find relief.
Harmful Techniques: Improper Brushing and Flossing
People often think brushing hard will result in cleaner teeth. This is a common misconception. In actuality, using a soft-bristled toothbrush with minimal pressure will effectively remove harmful bacteria and food particles. Additionally, making sure you are flossing correctly will prevent damage to your teeth and gums. If you're unsure of how to properly brush and floss your teeth, talk to your dentist.
Soft Tissue Infection: Gum Disease
The most common signs and symptoms associated with gum disease include red, inflamed, and bleeding gums. Also known as periodontal disease, millions of adults in the United States have some form of gum disease and don't even realize it! Once plaque and tartar begin to build around the gum line, the infection can often cause tooth pain, and if it's left untreated, you can face bone and tooth loss. In order to remedy this problem, your dentist will need to perform a deep cleaning and frequent checkups to make sure the infection doesn't come back.
Cavity Creation: Tooth Decay
This is, by far, the most well-known reason for a toothache. Tooth decay is rampant in people who lack good oral hygiene. Children are also prone to it because of their diet or ineffective brushing and flossing techniques. When tooth decay embeds itself into the inner layer of your tooth known as the dentin, it can result in increased tooth sensitivity and pain. In this case, you will need a filling or a dental crown to protect your tooth from future infection. The type of restoration you will need depends on the severity of the tooth decay. In the most serious situations, you might need a root canal or tooth extraction.
Excessive Wear and Tear: Teeth Grinding
Do you grind or clench your teeth at night? Bruxism, also known as teeth grinding, is a common problem that results in tooth and jaw pain, as well as neck and muscle discomfort. Sleeping and stressful situations can cause you to grind your teeth, which ultimately causes excessive wear and tear on your teeth. When your jaw is clenched shut and your teeth are grinding back and forth, it will take no time for the pain to start. Talk to your dentist about wearing a mouthguard at night to protect your facial muscles and teeth from damage.
Too Hot or Cold: Tooth Sensitivity
Just when you think a nice cold glass of ice water sounds good, you go to take a sip and you're hit with a sharp pain in your mouth. When this happens, the likely result is your tooth enamel is worn and exposing your tooth's inner layer. Whether it is from too much wear and tear or a recent tooth whitening experience, you will need to talk to your dentist about ways you can protect your teeth from hot and cold temperatures.
Now that you know what could be causing your toothache, it's time to take action. No matter the cause, if you are experiencing pain, it is best to call your dentist and make an appointment. The faster you seek treatment, the closer you'll be to enjoying a healthier, pain-free smile.
About the Author
Dr. Raj Vekariya is a native of India where he attended dental school soon after graduating high school. After graduating, he worked as an associate dentist for three years before moving to the United States and enrolling in New York University's College of Dentistry. In 2011, he earned his Doctor of Dental Surgery degree and completed his certificate exam in Esthetic and Comprehensive Dentistry. At Center One Dental, he and his staff strive to provide the highest standard of care. From preventive care to restorative and cosmetic dentistry services, Dr. Raj will also ensure you are pleased with your results. To learn more, contact us via our website or by calling (724) 300-3700.