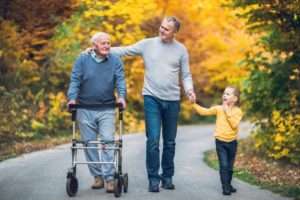 Maybe you just moved to the area. Maybe you're tired of going to several different offices for dental care. Perhaps you're dissatisfied with how you've been treated. Regardless of the reason, you're looking for a new dental office to call home—not just for you but for your entire family. As a result, not just any dentist will do. You want a qualified expert. Keep reading to learn four reasons to choose a highly trained family dentist.
One-Stop Dental Shop
When you're already running around with your family to soccer practice, piano lessons, swim team, and more, who has time to go to different dental offices for appointments? That's why you need to find a dental home that can meet everyone's needs all under one roof. From simple dental checkups to complex cosmetic or restorative procedures, the family dentist you choose should handle it all with expertise and skill.
Family-Friendly Environment
If your kids are going to comfortable in a dental office, it needs to be family friendly, not stuffy and sterile. At your dental home, the staff warmly welcomes you from the moment you open the door, instantly relieving stress. Their team listens to your concerns and recommends treatments that can help you reach your smile goals.
If possible, find a dental office that is family owned and operated by a local, trusted dentist. You get the benefits of years of dental experience and the personalized attention that comes with choosing a small practice. Also, finding a dental practice whose team members frequently volunteer or participate in community events is a rare find—one that is worth holding onto.
Convenient Location and Hours
You don't want to have to travel far to get to your dentist's office, so find one closer to home! But make sure that the office you pick also has flexible hours to accommodate your busy schedule. That way, you don't have to take off as much time from work or take your kids out of school to squeeze your dental visits in.
Available for Help in Emergencies
Although you can't plan how or when a dental emergency might happen to you, you can plan where you'll turn if or when it does. Having a trusted dentist for your family lined up can help you stay calm in a stressful situation. If your current family dentist doesn't make room for you within a day, it's time to find a new dental home! Make sure your new dentist accepts emergency patients on the same day so that you and your loved ones can get relief and necessary treatment when you need it most.
A family dentist with these qualities and benefits does exist in your area. Once you find them, make sure you keep going to them on a regular basis so that everyone in your family can have a positive dental experience and stay on the path of oral health now and down the road. Contact your family dentist for an appointment today!
About the Author
After finishing his dental degree at New York University's College of Dentistry in 2011, Dr. Raj Vekariya completed his Certificate program in Esthetic and Comprehensive Dentistry. He and his wife own and operate Center One Dental for patients in the Canonsburg area. As a father of two children, he knows how to help children feel more comfortable in the treatment chair. The practice has evening and Saturday hours available as well. To schedule an appointment with him, call (724) 300-3700 or click here.