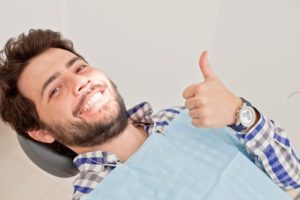 There is a common misconception that avoiding the dentist will save you money. If you're not feeling any pain in your mouth, what's the point of wasting your time and money on the dentist? However, routine dental visits can save you from much more extensive and expensive procedures in the future. Keep reading to learn about the importance of biannual checkups and cleanings to keep your mouth healthy and your pocketbook full.
The Importance of Routine Checkups & Cleanings
Your regular dental visits will consist of 2 equally important parts:
The Checkup
A routine dental checkup not only ensures the safety and health of your teeth, but it can prevent and detect issues before they become more severe. For example, dentists alone catch 85% of oral cancers. When caught early on, oral cancer has an extremely high recovery rate. However, without screenings to detect it early, oral cancer can lead to more serious health ramifications and a lot more money spent.
Your dentist also checks for gum disease. This disease affects around 50% of the US population, and it can lead to damage of your gums, supportive tissue, and even tooth loss. Recently, gum disease has been linked to increased rates of heart disease, stroke, cancer, diabetes, and even more overall health problems.
The Cleaning
During your cleaning, your dental hygienist will remove plaque and tartar that hasn't been cleaned at-home. Tartar, a leading cause of cavities and gum disease, can only be removed by a dental professional. They will polish your teeth to give you a refreshed grin, and they will also floss your teeth to remove any lingering debris.
This is also a great time to get tips for your at-home oral healthcare. After getting to know you and your smile a little better, your hygienist can recommend some at-home care tips to help give yourself a great looking and feeling smile.
Preventive Visits and Your Wallet
The good news is that preventive visits are typically covered by dental insurance, and even if it isn't, the checkup and cleaning cost is nothing compared to the cost of needed dental restorations after prolonged treatment. This is precisely the reason why dental insurance companies favor preventive visits. They detect issues before they get more expensive, protecting your mouth down the road.
When is the last time you made a dental visit? Contact your dentist near me to save your money and health. These biannual visits are one of the easiest steps you can take towards a healthier you.
About the Dentist
Dr. Raj Vekariya is a dentist who takes pride in always staying up to date with the latest technology. He provides comfortable and comprehensive checkups at his state-of-the-art dental office. He currently practices at Center One Dental, and he can be contacted through his website or by phone at (724) 300-3700 for any questions.