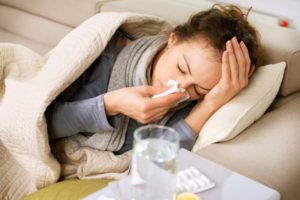 With winter officially here, even the healthiest of people are getting hit with cold and flu symptoms. Sniffles and coughing can be distracting, so most people may not be thinking about their oral health. But did you know having a cold or flu can affect your mouth, too? Read on to learn 5 helpful flu season tips on how to keep your teeth and gums healthy during this heightened time of sickness.
#1: Make Brushing Count
Don't let your sickness get in the way of your brushing routine. It's still important to brush twice a day and floss once. Be sure to spend at least 2 minutes each brushing session to clean away plaque and bacteria.
#2: Drink Lots of Water and Liquid
An important step you should always take when you're sick is to stay hydrated. Your body needs extra fluid to fight infection, so you should always drink lots of water and eat soup when you're sick. Dry mouth can be a cause of cavities because it promotes the growth of bacteria, so you should keep your mouth lubricated to protect your oral health.
#3: Gargle with Saltwater
Dissolve a tablespoon of salt into a glass of warm water and gargle and spit until the water is gone. This will aid in preventing bacteria and plaque from causing dental issues.
#4: Choose Sugar-Free Medication
Many cough drops and syrups that you may rely on during this time of year are packed with sugar to make them taste better. This sugar gets in your saliva and coats your teeth, which can damage your pearly whites and gums.
Your best bet is to choose medication that doesn't use sugar. You can look for products that contain substitutes like xylitol or sucralose. If you can't find these products or like your sugary syrup too much, just be sure to brush right after to remove sugars from your teeth.
#5: Toss Your Toothbrush
After you start feeling better, the only thing left to do is throw away your toothbrush. The brush you used when you were sick can still be home to bacteria that can make you ill again. If you use an electric toothbrush, simply change out the head.
Be sure to maintain regular checkups and cleanings to prevent and detect early signs of oral health issues, especially after being sick. Now that you know these useful cold and flu tips, you're ready to fight this season of sickness! Use these 5 tips to keep you and your mouth in tip-top condition.
Meet the Dentist
Dr. Raj Vekariya takes pride in making his patients feel comfortable at his practice. He enjoys finding ways to eliminate his patients' stress for the best treatments possible. He currently practices at Center One Dental, and he can be contacted through his website or by phone at (724) 300-3700 for any questions.