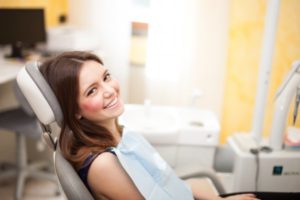 When the holidays are around the corner and all you can think about is spending time with family members, making holiday dinner, decorating the house and buying gifts, it's easy to forget about your regular doctor appointments. However, if you're part of the majority of Americans who has dental insurance, you don't want to forget about your annual benefits.
After all, you paid for those benefits at the beginning of the year and once the new year begins, you won't be able to use them. Learn why and what you should do next!
Dental Insurance: A Use it or Lose it Scenario
According to the National Association of Dental Plans, only 2.8 percent of PPO plan participants met or exceeded their annual maximum. This refers to the total amount that an insurance company will cover for treatments. Based on a report from the American Dental Association (ADA), the average individual only used $323 worth of dental benefits, even though the average annual maximum is $1,250.
Clearly, people don't make the most of their dental insurance when they have them. In this example alone, that individual is leaving $900 worth of benefits on the table. That's why dentists across the country are imploring people to schedule a treatment before January 1st when they expire. Keep in mind that those with Flexible Spending Account (FSA) funds also have reason to schedule. These funds are not likely to carry over into the new year and even if they do, it's typically at a discounted rate.
The First Step to Maximizing Benefits
Start by contacting the insurance company directly or your employer if you get insurance from them. Whether you're speaking to an insurance agent or your HR manager, both can give you valuable insight to the nuances of your plan as well as what benefits you have leftover to use. You'll also want to ask how much you have remaining in your annual maximum. Knowing this information will help you plan your future treatments more effectively.
Treatments to Consider
If you've only been to the dentist once this year and it was only for a routine cleaning, it's very likely that you have another cleaning/exam benefit to utilize. The ADA recommends that you visit for cleanings at least once every six months, so this is a very common benefit for dental plans. You'll also want to check if you need any other preventive treatments, including:
X-rays
Fluoride varnishes
Dental sealants
If you have more extensive treatments such as fillings, crowns or other restorative procedures, now is the time to begin staggering them. Staggering involves scheduling a treatment plan now so once the year ends and your benefits reset, you can continue using your benefits and reduce your out-of-pocket costs.
Do you still have benefits to use? Schedule an appointment today before appointment slots fill up!
About the Author
Dr. Raj Vekariya earned his DDS degree from New York University's College of Dentistry. His practice is in-network with many insurance providers and his team works hard to make paying for care a simple and accessible process. To learn more about his practice or ask questions about your plan, you can contact him through his website.