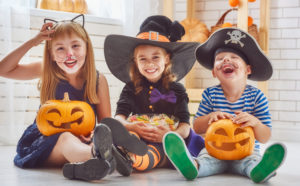 Do you know what is scarier than goblins, ghouls or ghosts? Tooth decay! While a cavity may not be a great idea for a Halloween costume, it is a good idea to keep your dental health in mind during this spooky holiday season.  Here are 3 tips – or "tricks" – courtesy of your local dentist to help you survive this sugar-filled Halloween without getting any new cavities.
Be Selective
Almost every candy contains lots of sugar but being selective when it comes to choosing your sweet treats can still have an impact on your oral health. For instance, you should avoid hard candies and other sweets that stay in your mouth for a long time. The longer sugary food remains in your mouth, the longer your teeth are subject to an increased risk for tooth decay.
The same advice applies to common Halloween candies like taffy and gummy bears. These sticky candies cling to your teeth and take longer be washed away by saliva. All that extra time spent stuck inside your mouth increases the risk for tooth decay.
Steer Clear of Snacking
Once your pumpkin basket is filled with candy on Halloween night, it can be tempting to casually snack on treats throughout the day in the weeks that follow. However, snacking can increase your risk of cavities – especially when your snacks are sugary treats from the candy bowl.
A healthier way to consume all the Halloween candy you or your kids collected is to eat them with meals or shortly after mealtime. Saliva production increases during meals, which helps rinse away food particles and cancel out the harmful acids produced by bacteria in your mouth.
Share the Sweets
Sharing the Halloween spoils can help reduce the risk of tooth decay while also putting a smile on someone else's face. If your kids have collected a mountain-sized supply of candy, have them pick out their favorites and then donate the rest. There are several organizations that can help you donate candy to troops overseas, while many dental practices will accept Halloween candy in exchange for new toothbrushes as part of candy take-back programs. Of course, do not forget to call your local soup kitchen to see if they accept candy donations as well.
In addition to following these three "tricks," maintaining good oral hygiene habits like brushing twice a day, flossing at least once a day and making regular trips to a dentist can help prevent cavities from forming in your mouth. Catching tooth decay early when it is easier to "treat" can help prevent more serious dental problems from developing later on down the line.
About Center One Dental
Center One Dental is a family-owned and operated practice that continually strives to exceed patient expectations. Dr. Raj Vekariya and his talented team are dedicated to providing quality care that leaves every patient smiling confidently for years to come. Feel free to contact Center One Dental before or after trick-or-treating this year by visiting their website or calling the office at 724-300-3700.