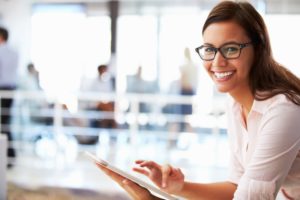 It's often said that a beautiful smile is the best accessory, but maybe it's actually the second best accessory. Well, then, what's number one? It's a beautiful, confident smile — and fortunately, beauty and confidence go hand-in-hand. When you know exactly how awesome you are — and how good you look — you're more likely to tackle challenges with gusto and not hold back from letting your personality shine. One of best ways to improve your smile's appearance and thereby boost your confidence is by visiting your cosmetic dentist.
The Smile-Brain Connection
There are a number of ways in which your smile can affect your confidence:
When you smile, even if you're faking it at first, your brain releasees feel-good endorphins, which can help you stop worrying about what other people think and start enjoying your life to the full.
Smiling is contagious. When you share this expression with other people, they're likely to return it — and who doesn't feel more confident when they're the recipient of a genuine smile?
People with white, straight teeth are often perceived as being younger and more successful than individuals whose smiles have severe aesthetic flaws.
Discover Your Smile's Potential
Cosmetic dentistry is more popular than ever, and for good reason. Throngs of people are coming to realize that no designer handbag or expensive hairstyle can have as big an impact as a gorgeous set of teeth. If you want to harness your smile's potential, one of the following cosmetic treatments may be right for you:
Teeth whitening removes even stains that have been plaguing your teeth for years. In a single appointment with your cosmetic dentist, your teeth could become up to eight shades brighter!
Porcelain veneers and Lumineers are thin tooth covers that disguise all sorts of flaws, including discoloration, cracks, chips, minor misalignment, and more.
Direct bonding is also able to many aesthetic imperfections. It is a fast and affordable solution for folks who have one or two unsightly teeth.
Invisalign is a convenient and discreet orthodontic treatment that can correct malocclusion (bad bite), gaps, and other forms of misalignment.
Your Road to Renewed Confidence Starts With a Consultation
If you're ready to say goodbye to your less-than-perfect smile and hello to a brand-new you, schedule a consultation with your local cosmetic dentist. They'll discuss your goals and your budget with you and design a treatment plan that will help you achieve the smile of your dreams. To prepare for your consultation, we suggest that you:
Research different cosmetic treatments and make a list of any questions you have.
Look at before and after photos of individuals who have had cosmetic work done on their teeth so you have a realistic idea of what to expect.
Are you ready to hit the refresh button on your confidence? Your cosmetic dentist can help!
About the Dentist
Dr. Raj Vekariya is proud to serve as your general and cosmetic dentist in Canonsburg. He enjoys both the art and science of how to help his patients achieve beautiful, healthy smiles. If you would like to speak to him about transforming your teeth, please contact our office at 724-300-3700.