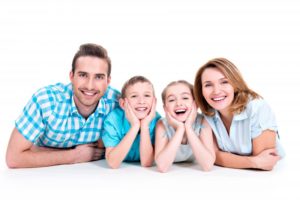 Life is busy. Not only do you have to keep your house in order, maintain a career, and make sure your kids get to where they need to be, but you also have to make sure that everyone in your family sees the dentist at least twice a year. After all, oral healthcare is an essential part of overall well-being, and it's especially important for kids whose mouths are still developing. Instead of running all over town for your family's dental appointments, we encourage you to visit a family dentist — someone who can take care of everyone from Grandpa John to little baby Emily.
Expert Care for All Ages
Some dentists hesitate to accept children as patients. They may not feel qualified to address the unique issues that sometimes afflict young mouths, or perhaps they do not feel comfortable interacting with young ones. A family dentist, on the other hand, enjoys working with folks of all ages and has the expertise to care for mouths of young and old alike. They'll also go out of their way to make sure that nervous patients, particularly children, feel at ease in their office.
Have a Family Dental Day
When it is time for everyone in your clan to have their biannual checkup, you can ask your dentist if you can all have appointments on the same day. That way, you won't have to worry about making multiple trips to the office.
When you schedule your appointments close together, your children may benefit in a big way. The dentist might allow them to be in the room when Mom or Dad is getting their teeth cleaned. Being able to observe what happens during the procedure can assuage your child's anxiety about their own upcoming turn in the big chair.
Convenient Hours and Location
Family dentists understand that life is hectic, and they know that the last thing you need is to take a big chunk of time out of your normal routine so members of your household can get their teeth cared for. That's why the best family dental care providers have office hours that are convenient for busy folks; they may be open on weekends or have a few days a week when they offer evening appointments.
Of course, convenient office hours don't mean much if there isn't a convenient location to go along with them. The dental practice that is right for your family will be within a reasonable driving distance of your home, office, or the kids' school.
Give Us a Try as Your Family Dentist
Here at Center One Dental, we truly enjoy forging lasting relationships with entire families. We would love to watch your kids grow up and help them have plenty of healthy smiles along the way! Our office is conveniently located on Washington Road, and we have weekend and evening appointments to accommodate your busy schedule. We welcome new patients, and we look forward to getting to know you!
About the Dentist
Dr. Raj Vekariya has had a passion for dental care since he was young, and to this day he remains enthusiastic about oral health. Patients appreciate him for his high-quality work and caring manner. If you would like to request an appointment or ask questions about our practice, please contact us at 724-300-3700.